BY MAGGIE BEAMGUARD, SLI Editor
You've got to have the right ears to pick out fruit. Ears like 13-year-old Tryston Cummings.
Tyrston has a natural talent for fruit selection that has been developed over a lifetime spent at his mother's side as she runs Andrews Farm Produce.
"There is one man – he won't even buy a watermelon unless Tryston is here to pick it out," says A.J. Andrews.
Anyone looking for that perfect melon can seek Tryston's expertise at the new location of Andrews Farm Produce at 115 Grant St.
The Andrews family has been selling locally grown produce for over 20 years. The business was first located on Hoffman Road. After 10 years, a road-widening project pushed them toward West End, where they sold fruits and vegetables for the last 12 years.
But the white, open-air stand with a green porch roof on N.C. 211 now stands empty, the casualty of yet another road-widening project. The state has been acquiring properties along the 211 corridor in preparation for the road's eventual expansion, including the property that Andrews had rented. "They are bumping us up the road," she said.
Wanting to stay in the area, Andrews found available space in the Seven Lakes Business Center, about 1.5 miles west.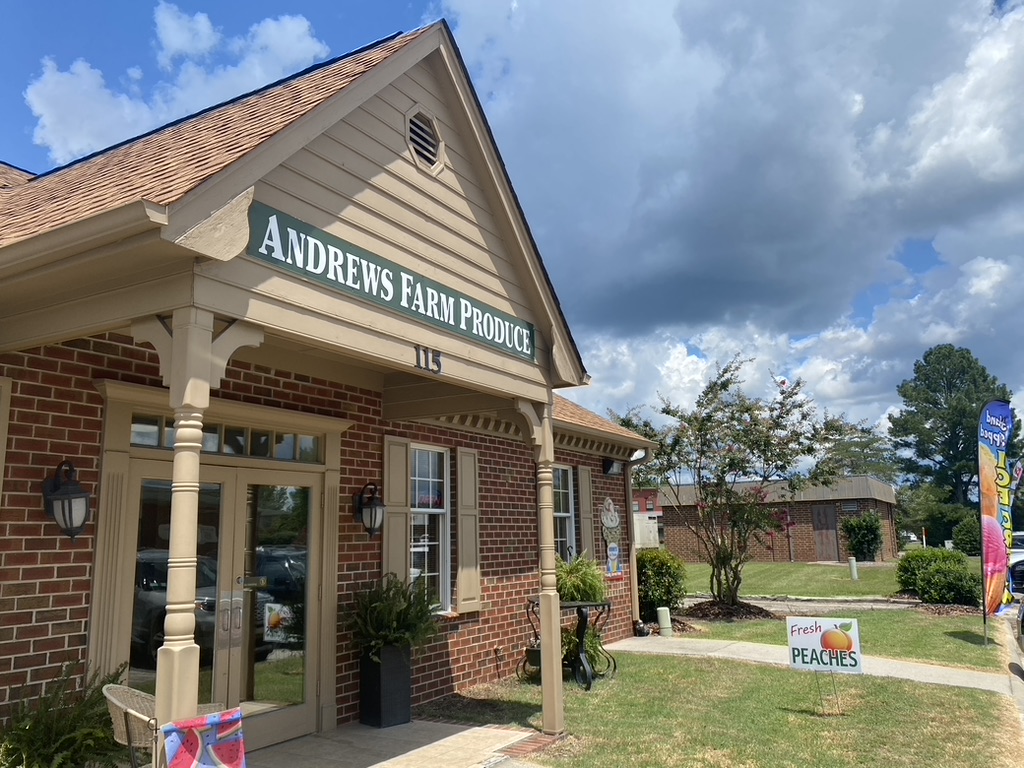 "We have our regular customers. Some people come every day. And I wanted to stay for them," she said.
It feels bittersweet to be leaving the location on 211 after a dozen years. During that time, her son went from playing in the playpen behind the counter to selling produce behind it. Tryston spent so much time at work with his mother that he became a stand mascot of sorts. Andrews says longtime customers ask, "Is that the same little boy?"
The move to the Seven Lakes Business Center comes with some advantages.
"This is a better location. We have more opportunities here," said Andrews. "We're going to be open year-round because we're not outside in the open air anymore. We have heating and air. And we can have gift shop stuff in the extra rooms. We hope to offer a variety of things for people."
One of those new offerings is a freezer box with 12 flavors of ice cream. Customers have been digging in, by the looks of the half-empty containers. Depending on how things go, Andrews may add additional flavors. So far, customer favorites are Butter Pecan, Moosetracks and Superman.
Andrews looks forward to the opportunities her new space provides for growing her business. The doors are open from 9 a.m. to 6 p.m. seven days a week, year round. Seasonal produce and gift items will be available for purchase including pumpkins and apples in the fall and garlands and wreaths in winter.
She also plans to offer gift baskets filled with honey and homemade bread, seasonal produce and candies. "My mom makes homemade breads, and they go as fast as she can make them," Andrews said. "And poundcakes. Homemade poundcakes."
From its produce to its people, Andrews Farm Produce seems to be defined by "homemade" and "homegrown." The new location provides for a growth spurt that coincides with the coming of age of that little boy playing behind the counter.
"Tryston knows how to run it all. He can do everything," Andrews said. "If he was old enough to be here by himself, he could do it all. He does the best job. A lot of people rely on him for help."
Andrews plans to keep adding products and invites folks to keep checking back to see the changes.
As you test the plumpness of the tomatoes and the softness of the peaches on offer, the Andrews family is one you can get to know.
"The little people in business get overlooked sometimes," she said. "It might be a little cheaper at the big box stores, but you are supporting families when you shop locally."
Andrews Farm Produce customers can expect expert, personal service from three generations around to help. The youngest isn't shy about sharing his secrets, he says they are just hard to explain.
"You just listen for the sound," Tryston said.
If you aren't sure what sound you are listening for, Tryston is happy to lend you his ears.
Contact Maggie Beamguard at maggie@thepilot.com.