BY MAGGIE BEAMGUARD || Insider Editor
When Seven Lakes resident John Plourde learned he had been nominated to the Maine Sports Legends Hall of Honors, he was, fittingly, stepping onto the golf course.
Eager to get the round started, and with a side wager on the game, he almost let the call go to voicemail.
"I said 'thanks for calling but I'm going to have to get back to you. I'm ready to put out on the green here.'"
The voice on the other line hastily informed Plourde he was selected as one of Maine's Sports Legends, and he almost dropped. The golf group expressed concern when he got off the call. "I said, 'I just got inducted to the hall of fame.'" And then the good-natured teasing began. Suddenly the group had a hall-of -famer in their midst.
The prestigious recognition is technically called the Maine Sports Legends Hall of Honors to distinguish it from other hall of fames in Maine. While many inducted members are accomplished athletes, this particular distinction honors a person's body of work in the field of athletics. Recipients are promoters of sports and advocates of a healthy lifestyle.
Plourde, a retired middle school principal from northern Maine, earned the recognition for his years of coaching a variety of sports and particularly for the 40 years he officiated basketball.
Plourde's first thoughts during that phone call jumped to his father, Emery Plourde, who was posthumously inducted into the same Maine Sports Legends Hall of Honors in 2010.
"He and I are the first father-and-son inductees, so that's pretty special. I'm very proud and honored for that little distinction," Plourde said.
It was his father, a record-setting long distance runner, who got Plourde started in sports at their small town recreation department. At age seven he began playing the equivalent of Pee Wee baseball. "​​I'll never forget my dad bringing me down," he recalls.
That day, he met the director of the summer programs who would eventually become Plourde's athletic director and one of the basketball players who stood six foot nine inches. "I looked up at him and I thought 'Oh my!' It was like seeing my first giant."
His love of sports would become equally as large.
"That was my first day of any sort of athletic participation, and I loved it. I came home so excited, and it was like I just couldn't get enough. And it just grew. I've always loved competition. I love teamwork."
There would be many teams in many sports over the years that Plourde played for, coached or refereed. "If someone asked me back then 'what was my favorite sport?' I'd say, 'What season are we in?" Because I loved them all."
He lettered in baseball, golf, soccer and basketball. "But baseball was probably my favorite, and I went on to play in college."
Influenced by coaches, school administrators and teachers, Plourde saw himself enjoying that same kind of work. Teaching would allow him the opportunity to get into coaching.
Plourde and his high school sweetheart, Alverna, attended the University of Maine at Presque Isle, where both studied in the fields of health, health education and physical education.
While still students, they were approached to pursue basketball officiating. They became the first husband and wife basketball officiating team in Maine.
Alverna stepped back from officiating when they started a family, but Plourde says had she continued, she would be the one recognized as a sports legend.
"I certainly could not have done it without my wife and my family," Plourde acknowledges. "My wife was an outstanding athlete in her own right, and for us to come into basketball officiating, especially at a time when there were very few women, was really quite special for me."
Plourde is most noted for his contributions to basketball, which included officiating 16 state championships.
"In Maine, in part because of the long winters, basketball is king," he said, "I think the fact that I had the opportunity (to officiate) and the commissioner had enough faith in me to put me into 16 different state championships over my career, I'd say that may have been my greatest achievement."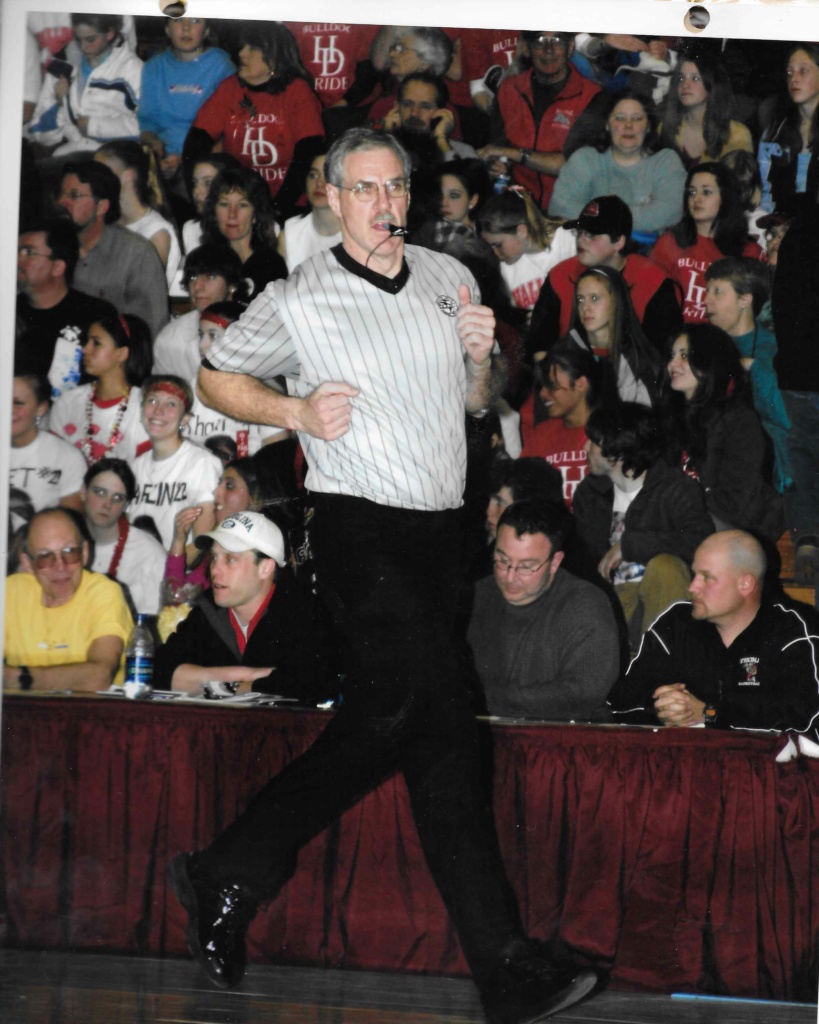 But there is another achievement that makes him particularly proud. He started the women's varsity soccer program in Caribou, ME in 1983. For all five years he coached the fledgling team, they made the regional finals against larger, more established programs. By the fourth year, they were state champions.
"I'll never forget the state championship game because we beat this team from just outside of Portland. I had the best of the best, bright kids, tough kids that wanted to learn," he recalls. "Yeah, I'll never forget that team."
A competitive fire drives Plourde to strive for excellence. As the fifth boy in the family, he wanted to shine in the eyes of his older brothers.
"I think there was that drive to succeed and do better, and athletics provides that. There's so many lessons for life through athletics. Life isn't alway fair. You're going to have the bad bounce."
Plourde enjoys the challenge of overcoming the bad play and strategizing how to turn things around. It's an outlook he has applied to his coaching and officiating.
As part of a pregame ritual, Plourde would say to himself "John, I'm going to referee the perfect game." Knowing full well that the perfect game was unattainable, his mantra gave him a professional hustle.
"It didn't matter if it was a middle school girls game or if it was a class A boys state championship game, I went out there with this notion that I'm going to give it everything I have."
He is still giving it all he's got.
When the Plourdes retired from public education in 2013, they relocated to the Sandhills, attracted by the azaleas, green grass and shorts weather they experienced during spring break trips to visit their son, now deceased, who lived in Durham.
Here they have found a community with many opportunities for sport and friendship. It doesn't hurt that his brother Bob and sister-in-law Linda Plourde also moved to Seven Lakes.
An enthusiastic believer in living a healthy lifestyle, Plourde wants to walk the talk.
"I feel so much better when I'm active. I mean, if I have the moody blues like we all do, I find the best medicine for me is just to get out and do something," he said. "And bottom line, it's just fun."
Ploude is unequivocal when talking about this current favorite sport.
"Without question, it is tennis. You know tennis was not even on my radar growing up." He did end up coaching tennis, but never played competitively. "It wasn't until I came down to NC when I actually joined the USTA Tennis program. Now I can't get enough of it. I absolutely love it, and I play doubles."
He captains a local USTA team, leading it to a NC State Championship in Wilmington this November.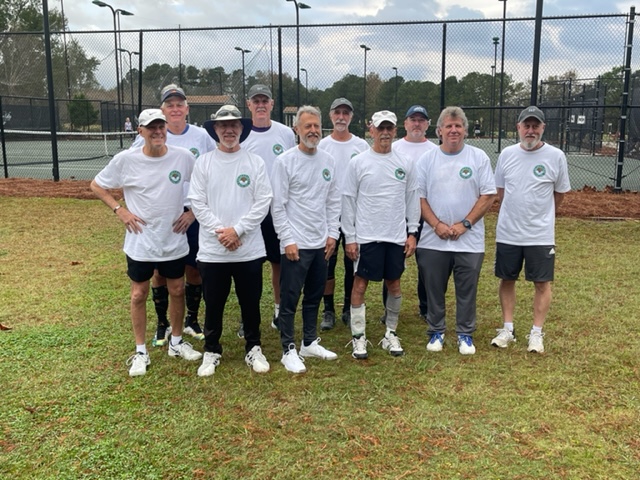 But that's not all he does. With some form of play every day, a color-coded monthly calendar keeps him organized. "Reds are tennis, blue is anything connected to softball. Purple is golf. Pickleball is in green."
Bridge games are recorded in black. He accompanies his wife, who good-naturedly told him "you've gotta use those two neurons that are barely flickering between your ears."
Now that normalcy is returning following COVID, Plourde also plans to pick up some volunteer work again. He previously drove cancer patients to appointments for a program called Highway to Healing. It was a way for him to heal following the death of his son, Aaron, to pancreatic cancer at the age of 38. "It was so therapeutic for me. It was a way for me to try to wrap my arms around this catastrophic circumstance that I found myself in."
With this busy schedule, the Plourdes also find time to travel, visiting their daughter Allison in New Hampshire and their six grandchildren.
Plourde still officiates, sticking to middle school softball and volleyball. Having officiated games at the highest level, he cherishes working with this age. "It is just the enjoyment and the pleasure of seeing kids participate. I like middle school because there's actually teaching moments there," he said.
The enthusiasm for sport that started for him on the baseball field is something he wants to share with others.
"Just like that tall, giant gentleman I met when I was seven years old in the parks and recreation program, I'd like to be that person that can motivate somebody."
Plourde seems to be approaching his own life as though he is officiating that perfect, legendary game.
"I don't want to take life too seriously. I've gone through too many episodes in my life that were very challenging. And I'm at a point in my life where I want every day to be a joy, and I want to bring joy to others if I can."
Contact Maggie Beamguard at maggie@thepilot.com.