For years, rugby has been a staple sport in the hub of Southern Pines, North Carolina. The Southern Pines Rugby Men's team has recently advanced to the playoffs and fought for their further advancement on Saturday April 14th, winning the game against Charlotte 54-39.
On April 21st, the Southern Pines Men's team beat Atlanta for the Carolina Union Championship 64-18.
The Southern Pines Men's Rugby club began practicing in 2001, became a social club in 2002, then advanced to a competitive team joining the Matrix in 2012. Following that they were bumped to being a Division 3 team and are now competing in the Carolina Union playoffs.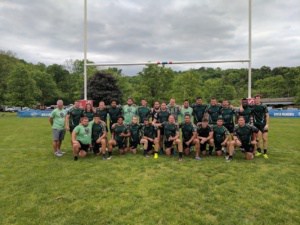 "Last year we finished in the top four in the country and in the year before that we finished in the top sixteen of the country," Robert Bortins, Vice President of the Southern Pines Men's Rugby team, said.
"In our Rugby team we bring in new athletes, and build them from the ground up, teaching them the skill and the game recognition," he said. "These are areas as a team we are always ready to focus on."
Not only are they a competitive team, but they also encourage anyone who may have any interest in the sport to join them at one of their practices to participate with them and learn.
"Anyone is welcome to come play on the Men's team, Women's Team, and also we have a High school team who just wrapped up their season," Bortins said.
In addition to competing for their own Men's Team advancement into the playoffs, the Southern Pines Rugby Club has taken pride in the growth of their Women's Team.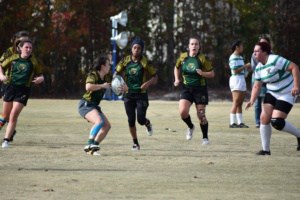 Rugby games are divided into 15s and 7s games.  The 15s games have fifteen players from each team with eighty minutes of play time and a five-minute halftime break. The 7s games have seven players from each team with fourteen minutes of play time and a two-minute halftime break.
The women had their last competitive 15s game on Saturday April 14th, and now they will be moving onto competing in 7s in the coming months.
Anna Brown, President of the Southern Pines Women's Rugby team, has been witness to the growth that the Women's Team has had in the past year.
"Our goal is to bring Rugby in for everybody," she said.  "We hope to see growth and help other people get involved and see the community that this sport also holds onto.  We want to build a positive atmosphere and this is a great way to help build that within the structure of our community."
The Woman's Team began practicing in August of 2016. Their first game was in February 2017. Following that season, they joined the Matrix and have just completed their first competitive season in the 15s games.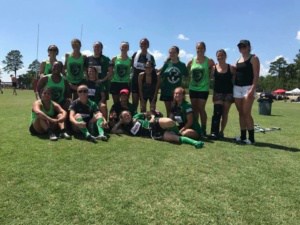 Practices and home games for both men and women's teams are held at the National Athletic Village off of US 1.
Brown hopes this team's growth will promote the awareness of this sport and the impact is has in the community.
"We are trying to become a huge fixture in this community," Brown said.  "One of the big things is we support a lot of local businesses, so we try to encourage our community support of both those businesses and this sport. So we encourage everyone to come out and participate in cheering on our teams."
The Rugby Teams encourage those who are interested to come join them at a practice and get to know the game. They welcome all ranges of experience and are happy to teach beginners.
For more information on the Southern Pines Men's and Women's Team practices, games, and updates can be found on their website at www.southernpinesrugby.org or on their Facebook pages at www.facebook.com/southernpinesrugby.