BY MAGGIE BEAMGUARD
Insider Editor
A big bowl of delicious breakfast cereal might bring out the tiger in you, but for Trish O'Flaherty, it brought out the photographer. She spent her twenties working in her native Canada as an educated and trained graphic designer.
Sustained in those years by cereal, a favorite meal morning and night, she eventually racked up enough cereal bonus points to buy her first camera.
"I love cereal," O'Flaherty said. "You know, you can get a lot of points by just buying cereal. One day I counted up my points, and I went and looked down the list of prizes." And there on the list was a real DSLR camera.
By the time she earned her first camera with those cereal points, O'Flaherty garnered a decade of graphic design experience and had started her own business, working primarily with women and women entrepreneurs.
Through this work, she developed an eye for photographic media.
"I was always involved with images. I was always working with stock photography, finding the right image for marketing brands for my clients. And so I got to know what images worked. And I got to know the difference between good images, bad images."
With her refined eye behind a new camera, she captured images of friends and coworkers. Early subjects were nurses she worked with as a nurses' aid who delighted in her ability to capture their beauty after working in scrubs all day.
For many years, O'Flaherty worked as a lifestyle photographer with varied subjects from families to pets to weddings. But with a move to North Carolina, she has a new focus: horses and their riders.
Building on her more than 25 years of experience, Bridlepath Studio is O'Flaherty's new endeavor.
The name conjures the image of the equestrian lifestyle she envisions portraying through her art. And it's inspired by an exclusive neighborhood in Toronto. "There's no place called Bridlepath in Pinehurst," she said. "It's just the idea of where equestrians are found, their homesteads." The name also brings a touch of class to her work and distinguishes her as a seasoned professional.
O'Flaherty's business launch comes after following true love to the Sandhills. She first met Dan at the age of 12 at summer camp. "I was a COVID bride and married my husband in Canada on August 2 and was across the border on August 7."
Here she discovered an active equestrian community and has met some of the many equestrian photographers in the area.
"One such photographer, who I believe to be a legend in Southern Pines, is Jeanne Pane," she said. "She invited me to come out to the Blessing of the Hounds this past year where I got my first real introduction to the deep traditions that riders have in this area. I was also fortunate to have the blessing of Lincoln Sadler, the event's Huntsman, to sell his portrait commercially and make my first sale a week later."
O'Flaherty rides a little herself, taking lessons at the Seven Lakes Equestrian Center. Engaging with the horses has helped her learn more about their behaviors, moods and personalities. She believes you don't have to be a natural rider to be totally engaged as an equestrian.
"I love horses," she said. "Where I lived there were lots of horses in Canada, and I would just go up and down the country roads. I'd go early, early in the morning when that fog is there, and the horses are there."
In the dreamlike atmosphere, she waited and watched for just the right moments. "I just love that look when they start to play with each other, and they're rearing up. That's always my goal, to try and get a horse that's on his back two feet by a sunset."
Taking time to compose and set up for a good shot is an essential skill for a professional photographer. "The one thing that I have learned about photographing animals and nature is that you've got to be patient. You might stay there for an hour or two," she said.
"I used to photograph snow drifts in Canada. I would wait until the wind was perfect and lifting up the snow perfectly. I used to photograph spiders on webs and wait until the sun was perfectly behind the web. If there's anything that I can say about being a photographer with nature and animals that you know I've got the patience to wait until it's the right time."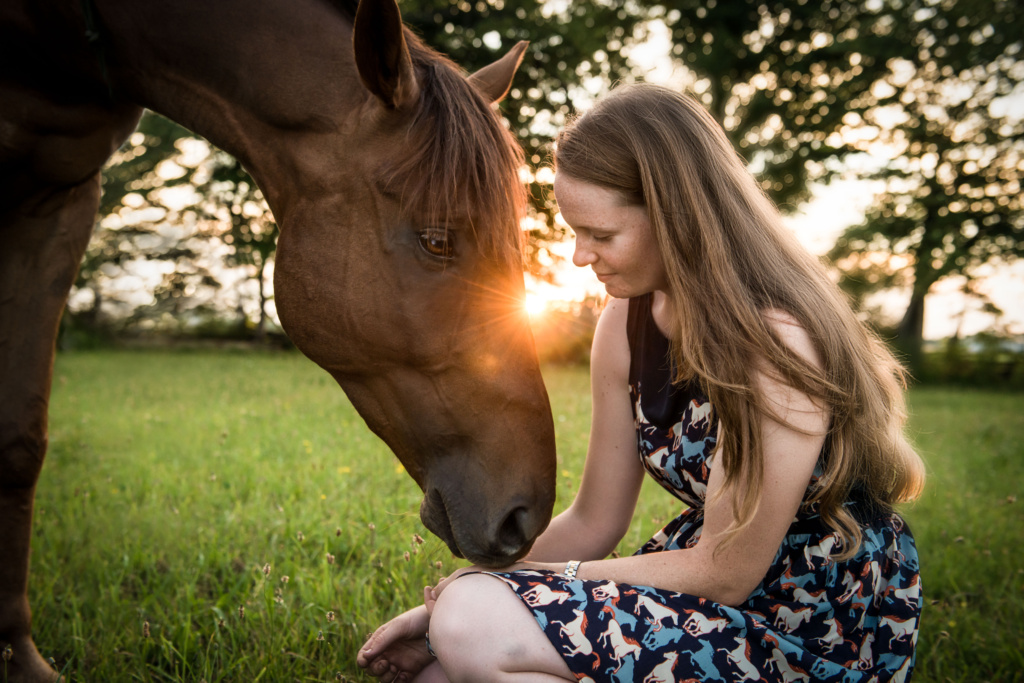 O'Flaherty plans to open a studio this spring where clients can meet with her to plan their photoshoots. She anticipates working with persons who want to show the relationship and the love between themselves and their horse.
"I'm about lifestyle, and so I'm looking for families. I'm looking for moms and their daughters," she said " I'm looking for moms who want their children photographed with their horse. I'm looking for the person who may have a horse that's getting old and they want to get some photos before that horse may have its final day."
She envisions photo shoots with women in beautiful gowns who want to walk with their horse down a country road at sunset or with clients as they tack up with their horse at the stable. For O'Flaherty, being an Equestrian Lifestyle Photographer means "showing the connection, showing the love and the showing lifestyle."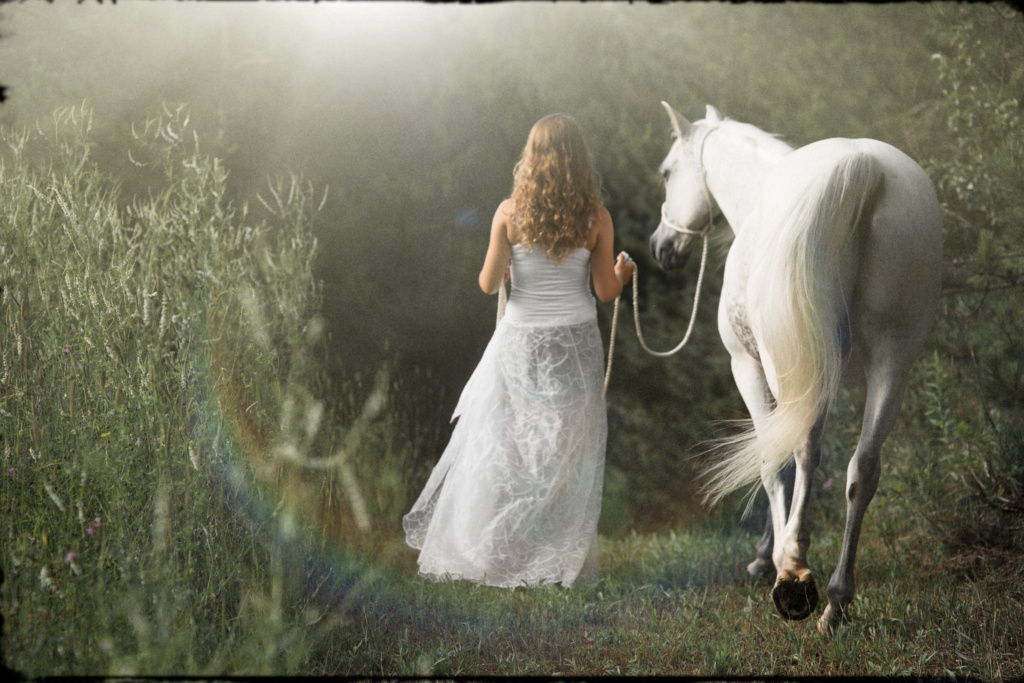 When working with clients, her first priority is to ensure their comfort through communication, sharing, and positive feedback. Her best images, she says, are captured in natural, candid moments. "It's when they don't know you're photographing them that you get some of the greatest shots because now they've let their guard down."
Capturing these transcendent moments is what O'Flaherty loves most about being a photographer. "I love beautiful photography. I love the fact that every shot that I take, ultimately there'll never be another photograph like it. I'm always capturing a moment," she said.
"I think every photographer says that, but I think one of the reasons why I wanted to be a lifestyle photographer rather than a portrait photographer is that I like it when a girl is just walking in the woods away from me, and it's not about her smiling and saying cheese – it's about her being on her own, alone in her thoughts. Or you take a picture of a child, and they've got ice cream. They're looking at ice cream with just enjoyment. And they don't care that you have a camera, they're just enjoying that moment. I understand when to grab those shots."
Along with O'Flaherty's photography skills comes the benefit of her years of graphic design experience including typography and photo editing which she applies to her products for clients such as coffee table books.
The Bridlepath Studio website contains a gallery of O'Flaherty's work as well as information for clients wishing to work with her. It has been designed by O'Flaherty with simplicity in mind https://bridlepathstudio.com/.
Contact Maggie Beamguard at maggie@thepilot.com.