By Maggie Beamguard
Insider Editor
As all manner of traffic speeds by the scrubby corner of N.C. 211 and 73, the vehicle fumes make for an unusual incense. Yet here, in this sandy lot, prayers rise to the heavens along with the exhaust.
For the greater part of the last year, Aaron Ribet and Jim McDermott have planted themselves at this intersection for an hour a week. Holding simple signs, they issue an invitation to commuters, truckers, high school students on their way home from practice and golfers rushing to make a tee-time: "Pull in for Prayer."
Ribet found inspiration to start the ministry after learning about a similar offering in Laurinburg from a person he met on a retreat with 12th Man Ministries.
"He showed me pictures of what they did," he said. "Since I've gotten saved, I've had a desire to share Jesus with people."
He had been looking to do something to fulfill his calling to evangelize and starting the pull-in-for-prayer ministry felt right. Ribet, a public school teacher who also works in real estate, recruited Jim McDermott, a Food Lion employee, to join him.
Ribet told McDermott his plans to stand out on the corner and make some signs that say "pull in for prayer" and to see what happens.
"Jim was all in from the beginning."
Both men, who have known each other since they attended North Moore High School, are active members of their respective churches. Ribet attends Grace Church in Seven Lakes and McDermott attends Seven Lakes Baptist Church. Their ministry has the support of their congregations but is not directly affiliated with either.
"We just wanted to be just two guys who love the Lord that want to share the gospel with people," said Ribet.
They considered several locations before setting on the intersection of N.C. 211 and 73. It provided good visibility and lots of room for people to pull in safely.
And they do. Ribet says they have prayed for anything and everything — "from people dealing with family members who are sick or are sick themselves, or people just on hard times asking for a blessing, or people wanting to pray for our world."
The pair has heard some incredible stories, including hearing from people who come back later to tell them how their prayers were answered.
"We're just so thankful to be able to glorify God and to help people remember that when they're going through things in this life they shouldn't worry," Ribet said. "They should pray about it, and they should go to their Father in heaven who's always there and won't leave them or forsake them."
Ribet views prayer as a direct line to his savior, his Father in heaven. "We can go directly to the source of all hope, of all joy, of all love and find the peace that surpases all understanding," he said.
That human understanding would be put to the test on June 6 when McDermott was seriously injured in a car accident. With his admission to the Neuroscience Intensive Care Unit at UNC Hospitals, McDermott found his own name on the lips of those for whom he has prayed.
On Thursday, June 15, the corner of N.C. 211 and 73 filled with around 60 people who pulled in to pray for McDermott and his family. People who knew McDermott from Food Lion, church and from around the community gathered under a tent and children held up signs reading "Pray for Jim." Taylor Creech, a friend of McDermott's, played guitar and sang.
Many who could not stop honked their horns in solidarity with the gathering.
Tommy Scarboro, of Awaken Ministries, shared a brief message and offered prayer on behalf of those present. Scarboro first met McDermott when shopping for groceries for the ministry. McDermott even accompanied Awaken Ministries on an evangelism trip in May.
Scarboro believes McDermott would be amazed at the turnout for that day's prayer.
"I think he would jump right out of that bed," Scarboro said. "Because this is his heart to see people to pray for people and to see their lives change. That's just him. That's Jim."
Speaking on behalf of Jim's wife Connie, Ribet says she would want people to focus on the healing power of God.
"Connie would say for people who are praying to pray big. Our God is a big, awesome God and can handle everything Jim has going on," said Ribet. "It's almost like our prayers have turned to praise because we know that God has Jim in the palm of his hand and he's going to work all things out for the good of those who love him."
Also present was McDermott's pastor at Seven Lakes Baptist Church, Chris Hrabosky.
"Jim is a special guy," said Hramosky. "He's had a lot of struggles in his life and in his family, but God's done amazing work in his life." The McDermotts began attending church there about 10 years ago and have been active and faithful members since. McDermott serves as an elder in the church.
"Jim does everything that nobody wants to do. He is just that kind of guy. And he's a quiet guy. But he just loves people."
Hramosky said many people visit their church after meeting McDermott at Food Lion.
The congregation is supporting the family through its prayers but also by helping with errands, rides and meals.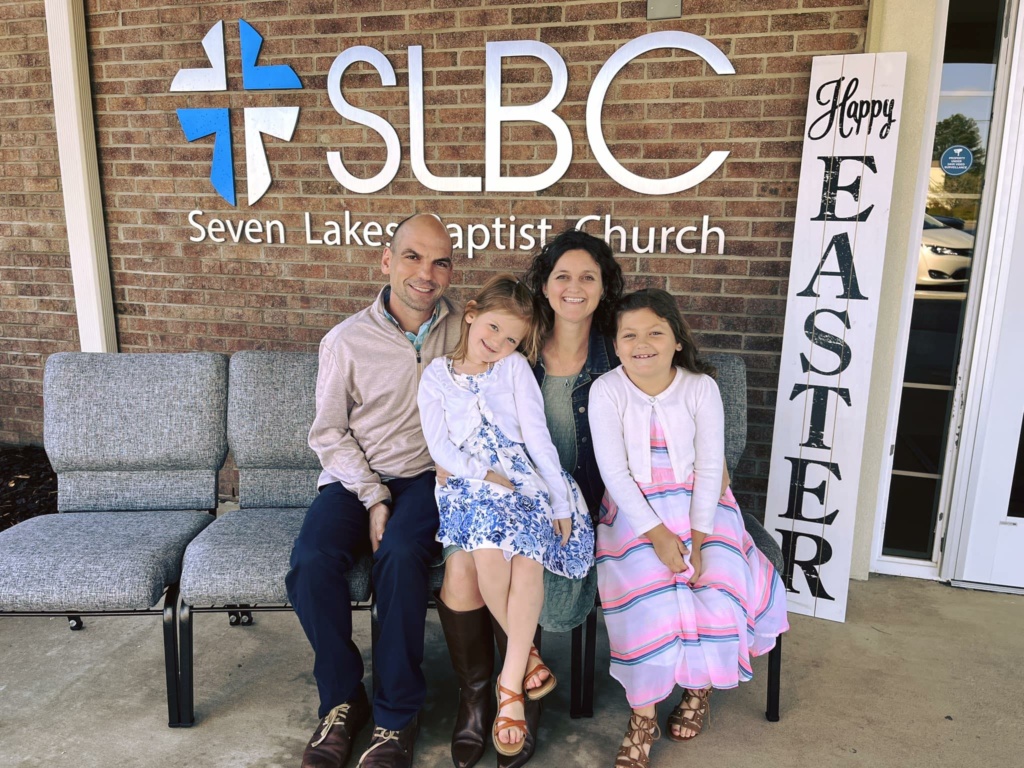 A fundraiser for medical expenses is being coordinated for Saturday, July 8 beginning at 11 a.m. It is being hosted by Awaken Ministry, Teen Challenge and Seven Lakes Baptist Church. Barbeque or chicken plates will be sold at three locations — Food Lion in Aberdeen, Seven Lakes Baptist Church and the corner of N.C. 211 and 73 — for $10 a plate.
While the community comes together to put its prayers into action for the McDermott family, Ribet believes that God is working through these difficult circumstances.
Ribet said he hopes more people will pull in for prayer. He plans to be there between 5-6 p.m. each Thursday. That consistency is a hallmark of the ministry, mirroring how they understand God's constancy.
"God is real, and God is doing a mighty work in Jim," he said. "I believe God can make himself known to everyone who hears Jim's story."
Contact Maggie Beamguard at maggie@thepilot.com.