BY LAURA DOUGLASS
Features Editor
Home to nearly 1,500 people — of all income levels — in the Sandhills region, St. Joseph of the Pines is best known for its resort-style Belle Meade campus and Pine Knoll, an iconic five-story Tudor Revival building overlooking the Pine Needles golf course in Southern Pines. Founded in 1948, with the support of local physician Francis L. Owens, Bishop Vincent Waters of the Diocese of Raleigh, St. Joe's, as it's called locally, is now part of the Trinity Health family and offers a full continuum of retirement housing, health care and community-based services for older adults as well as community outreach to those in need, including a rural mobile health/dental clinic, several HUD housing developments for seniors, the Life Center in Fayetteville, and a home care agency.
On the eve of its 75th anniversary, a few residents and staff members share their thoughts on the unique communities they call home.
'We wanted to downsize'
Collections of pottery and books grace the new home that Paul and Melanie McHugh settled into two months ago at the Pine Knoll cottages. They are not only the new kids on the block; at 65, Melanie is the campus' youngest resident.
Paul served 23 years on active duty then, after 9/11, took a civilian job at Fort Liberty. The couple opted to buy a home in Knollwood Heights, not far from downtown Southern Pines, when Paul was given orders, again, when their oldest child was about to start his senior year at Pinecrest.
"We were looking for a place where we could stay permanently," says Paul. "I was Airborne, so I could always get back when I needed to."
Thirty-one years later, the McHughs were ready to sell the big house, but were not ready to leave Southern Pines. They'd also assisted Paul's mother during her later years and saw the struggle as she was forced to seek different places to live as her situation worsened — from her own home, to independent living and, finally, skilled nursing.
"We wanted to downsize. I thought, if I am going to move, I would rather move to a system like this (life care community). We are functional, but the pipeline is there if we need support. Our kids don't have to go around scrounging for a place," Paul adds.
They toured a few houses and condos, and looked at the Belle Meade campus before deciding they liked the smaller, more focused community at Pine Knoll. Plus, it was closer to their old neighborhood.
"I didn't want another mortgage and looking long range, I was more comfortable coming to this facility after dealing with my mom's situation. That was a real eye-opener," he says. "I wanted to be more prepared. Here with our rent we get cable, phone, maintenance. All the things you worry about, it is a phone call away."
Melanie says some people think they are too young to retire this way. Instead, she views the stress-free lifestyle as an opportunity to relax and enjoy themselves more.
"I was a stay-at-home mom and worked hard raising four kids. I joke that I had kids in three decades — in the 70s, 80s and 90s — while Paul was away pretty often. So we consider this our retirement," Melanie says. "The staff here are great. And if we want to take a little trip or spend the weekend in Raleigh with our grandkids, we can do it. We don't have to worry about yard work."
'There is no typical day'
With a background in campus ministry and health care administration, Lynnette RauvolaBouta was a natural fit when St. Joe's was looking for a primary chaplain. At the time, she was considering a ministerial role in a hospice setting but was drawn to the faith-based mission of Trinity Health and St. Joseph of the Pines and its various facilities, including the mobile dental clinic and Providence Place campuses that serve seniors who are "economically fragile," says RauvolaBouta. "I love senior care and enjoy and appreciate a community where there is this continuum of care. I have a preference with being able to journey with people longer."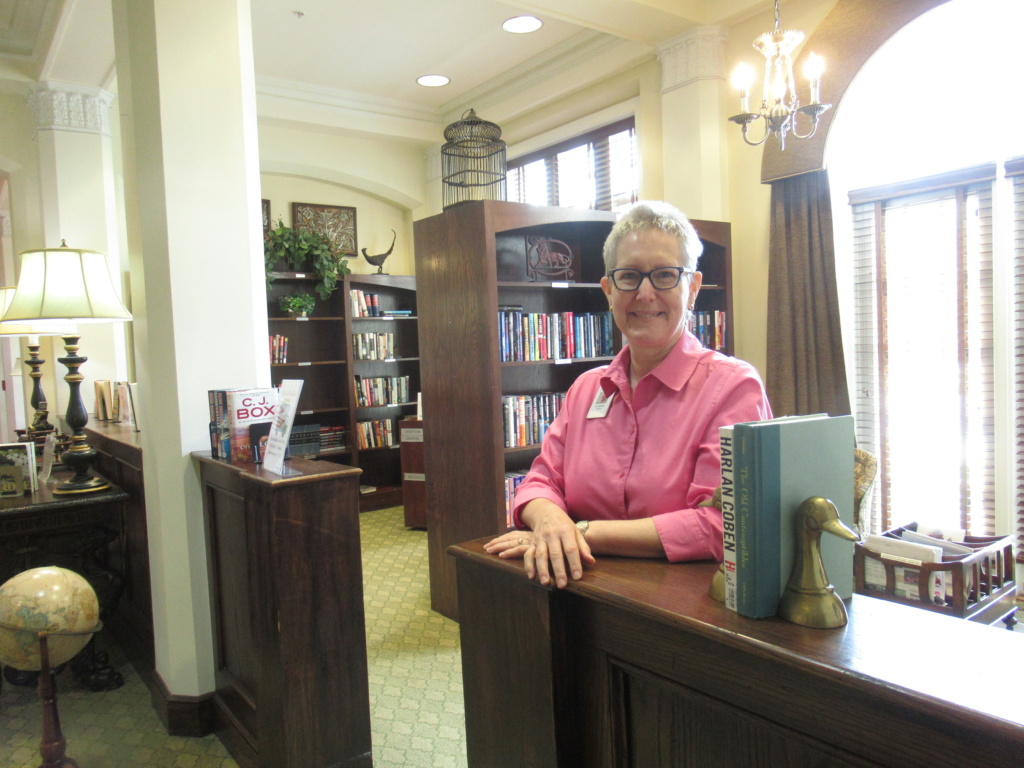 She started her new job in October 2020, and spends her time connecting with residents on all of the campuses, and has offices at the chapels at Belle Meade and Pine Knoll.
"For me, there is no typical day. I might be putting together Protestant worship bulletins or planning a Catholic Mass. We have a number of residents who volunteer to fold bulletins, so I meet with them. I also may meet with a colleague or family or individual. I may lead a centering group or prayer group," she says.
RauvolaBouta also began a support group for caregivers that is now led by volunteers, put together affirmation boxes for residents to thank staff members. She also tends the plants and makes sure the chapels are decorated appropriately for the seasons and holidays.
"I also try to pop out often and visit with people. I never know who might see me. I try to meet the person where they are. I don't ask about their religious background," she says. "I just introduce myself and get to know them as a person. I listen for cues. However you find meaning or purpose in life — if I can support you in that, I'm happy to do so."
'An extension of my family'
Chatting at the front desk of Pine Knoll, Chasity McRae is a smiling, familiar face for folks milling about — staff and residents alike. Working at St. Joseph of the Pines has also become a family enterprise, with one of her daughters joining the dining room staff and her son will soon be working in the kitchen.
McRae began her own career working in food and beverage with Pinehurst Resort for 17 years. During that time she earned an undergraduate degree and was working part time at St. Joe's when she was selected for a resident funded scholarship to help her acquire a master's degree.
"I wanted to earn the degree by the time I was 30. I was 40," she laughs.
When her current position was advertised, McRae was thrilled she had the advanced academic credentials necessary for the job.
"I feel like the residents are an extension of my family. They know what is going on in my day-to-day life just as I know what is going on with them day-to-day. In this position, I get to know them. When a resident calls and they have a concern or want to talk, it's easy. It is not like a hard thing. I'll say, 'It's going to be OK, I'm coming."
'I've lived here longer than any other home'
Like so many living in Moore County, Gloria Wyatt came from somewhere else. A New Englander by birth, she grew up in Connecticut, attended Skidmore College in Saratoga Springs, N.Y., and had a long career as the credit manager for the largest plumbing and heating company in Boston.
"It was a very, very busy job," she recalls, especially during the winter season.
Come August, however, things slowed down and she made a regular habit of vacationing in Pinehurst, to visit with her college roommate. Twenty years passed and when there was an opportunity to move, Wyatt said this was exactly where she wanted to go. "I fell in love with the area. It was smaller then, not as commercial." She moved to Whispering Pines and, in time, met her late husband, Bob, through their involvement in The Village Chapel. He was considerably older, she says, and after marrying in 1994 they settled into a home at Belle Meade in 2001. The couple had neighbors and also friends from CCNC moving in at the same time, which made the transition much easier.
"It was a very happy move. We had friends here and that made it just perfect," Wyatt says.
Bob and Gloria quickly became involved: He served as president of the Belle Meade Residents Association, headed up the marketing committee and joined the North Carolina Continuing Care Resident Association (NORCCRA; she became chair of the food committee — "my phone was always ringing," she laughs. Gloria also joined the finance committee and was treasurer of the Belle Made Homes and Cottages Association. Bob Wyatt passed in 2013.
More recently, Wyatt downsized from her Belle Meade home to an apartment in the Cambridge Building. "It's always been known as the best building because it's the friendliest," she whispers, conspiratorially. It's also a pet-friendly facility with residents owning cats and dogs, some even one of each.
"I always have had animals. I don't ever remember being without one, even as a little child," she says, as Sofia, a rescue cat she adopted a few years ago, plays quietly at her feet. "It's been a good life. I feel very comfortable and cared for here. I have no worries, and that is so important as you get older."
"We are much busier here'
Career educators, Drs. Marty and Joan Matula grew up, taught school and worked their way up to serving as assistant superintendent and, for him, district superintendent for 25 years in the central Pennsylvania area. In retirement, they moved to Seven Lakes West in 2006 before settling in Belle Meade three years ago.
"We decided we needed to think about how we wanted to spend our later years and what would work best for us," says Marty, noting there were so many neighbors making similar moves that they nicknamed Belle Meade "Seven Lakes East."
The move didn't change their outlook or interest in community service. Both had been heavily involved since Day One in Moore County with Joan serving as president of the League of Women Voters and Marty singing with the Moore County Choral Society and Golf Capital Chorus.
Joan is currently serving as president of the Belle Meade Resident Association, Marty leads Catholic Mass worship music at the Belle Meade chapel and is a member of NORCCRA, in Raleigh. Both participate in the St. Joseph of the Pines golf program, which allows residents to play at multiple golf courses in the area for a modest monthly fee.
"They call it a life plan continuing care community and that is what we were looking for. Once you are settled in, you stay," says Marty. "That is what we wanted — somewhere our children would not have to look for a place for us to go. Having a plan was my goal."
From their back patio, which is comfortably blanketed in plants and flowers, the Matulas overlook the Belle Meade putting green. On Friday mornings, Joan invites residents to enjoy a made-up game of "cow ball" that includes elements of golf, billiards and croquet. The object is to sink your colored golf balls first, then clinch the win by putting the "cow" ball into the hole.
"We have fun," Joan laughs, as her longtime friend Mary Price wins a round last Friday. "We are much busier here than if we had stayed in our own home."
'Something here for everybody'
A widow for a number of years before she moved from her Whispering Pines home to Pine Knoll, Nancy O'Connell said it was a big change but a good move.
"This is where I should be at this particular age," she says. "There is something here for everybody."
For O'Connell that means continuing her long love affair with the game of golf. She belongs to St. Joe's golf program, where she's a regular player. And by staying locally, she has continued to play with the same Thursday group she's enjoyed for 23 years.
She is also the immediate past president of the Pine Knoll Resident Association, stays active in a writers group and for decades has contributed her weekly column, "Fairway Notebook," for publication in The Pilot's sports section.
O'Connell was also out on the course every day for the U.S. Adaptive Open, a national championship held in mid-July on Pinehurst No. 6.
"It was amazing to see these people with their confidence and camaraderie with each other. I was overwhelmed," she says. "I have a handicap, but it is written on a (golf) card. These people have a visible handicap and nothing on their cards, and they are having a wonderful time."
Contact Laura Douglass at (910) 693-2475 or laura@thepilot.com.