After years of styling hair and nails in other salons, Mary Sanders finally decided to take the plunge and run her own salon.
Studio 211 Hair Salon officially opened its doors in February of 2018 and had its grand opening on Thursday, March 22nd.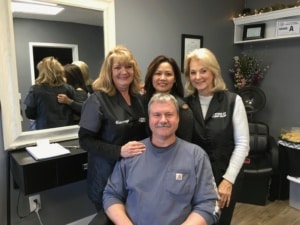 Mary Sanders was born and raised in the Philippines and received her Bachelor's Degree in science and agriculture before moving to China.
"I left my family in the Philippines," she said.  "I was independent.  I never took money from my parents.  I always worked."
As a young adult, she hoped to find independence and start her career in Hong Kong, but after several years, she wanted another change.
"The place where I worked offered positions in Canada and the U.S.," she said.  "I chose the U.S."
After two years of expensive paperwork and approval, Mary was finally able to come to the United States.  Now, Mary has her citizenship.  She has been in the States for sixteen years and lives with her husband and thirteen-year-old son in Eagle Springs.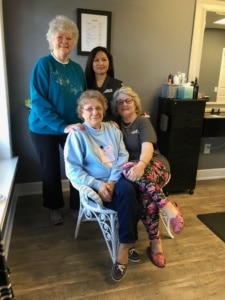 After she arrived in the United States, she decided to go to Sandhills Community College to get her license to do hair and nails.  Afterwards, she began working in different salons.
"I enjoy doing it; I always like to learn new styles and techniques," she said.
When Mary found an available location on Seven Lakes Drive, she received support from her clients to move into the space.  Some of them even came to help her set up the salon.
"I just wanted to have a really nice place to work," she said.  "I had the goal to move in here."
On December 7th of 2017, Mary began coming in to paint, do flooring, and prepare the shop for opening.  Whether in rain, cold, or snow, she was there working.
"I love to take care of people.  Seven Lakes is very friendly," she said.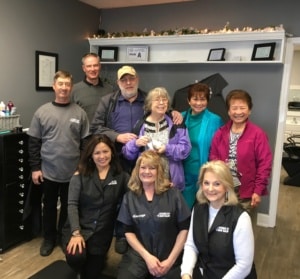 In Mary's shop, customer service is a priority.
"I just love to help people when I can," she said.  "I give all the best I can to help people."
Mary hopes to have Studio 211 Hair Salon for as long as she can.  She has the support of her friends, clients, and family.
"My husband is very supportive.  He is always behind me no matter what," she said.  "He makes me really strong to have my own business."
Mary works in the salon with her friends Kay Freeman and Glenda Garrison (GG).  She met Kay while studying at Sandhills, and she formed a friendship with GG while working in salons.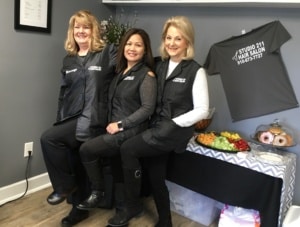 These three women provide a unique salon experience which includes hair, nails, facials, waxing, spray tan, and massage.  Kay does hair and waxing while GG provides massage in a separate room.
"I merged with Mary for a one-stop thing," GG said.  "It's a one-stop shop.  You can get a massage, pedicure, manicure, and hair style and you're ready for the town!"
GG offers a variety of massages including deep tissue, Swedish, and orthopedic.  Massage appointments should be set up a week in advance.
"I went into massage, and it's my heart and soul," GG said.
Mary would like to thank all of her clients for supporting her on her new journey with Salon 211 Hair Studio.  She would also like to thank Cliff Baldwin –the owner of the building – for providing her with the opportunity to pursue her dream.
To make an appointment at Studio 211 Hair Salon, call (910) 673-7727.  The salon is located at 1135 Seven Lakes Drive.