Peak Performance Mobile Veterinary Services PLLC rolled into the Sandhills in December of 2018.
Owned and operated by Kristyn Commerford, DVM, CVA, Peak Performance recently made the move from San Antonio, Texas, to Spring Lake, North Carolina.
Commerford offers a wide variety of services for her furry patients, ranging from dental work to acupuncture in counties such as Moore, Cumberland, Lee, and Harnett..
"One of the best things about my line of business is that I get to give each pet such one-on-one, individualized care," stated Commerford, "The continuity allows me to get to know both the pets and the owners better, so I know what each pet needs."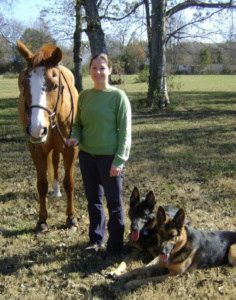 Commerford went on to further discuss the benefits of having a mobile veterinary clinic. Having the same veterinarian come to a pet owner's house allows the vet to not only get to know the animals, but to also remain aware of what shots have been administered, what bloodwork has been done, and any special conditions that may need to be kept in mind when caring for a pet.
"Most animals are happier in their own homes," said Commerford. "It makes them more cooperative and less stressed, which allows me to do a more thorough exam in their own environment."
Commerford explained that pets and owners alike appreciate the convenience of having a vet come to their home.
"Many people just aren't able to make it to the vet, whether they have children to keep up with, work long hours, or are retirees who prefer not to tote their pets to a clinic. It makes it easier on everyone involved, including the animals."
Commerford is a firm believer that having a veterinarian come to a client's home is less stressful in any situation.
"Animals get white-coat syndrome, too," Commerford said. "They know what veterinarians look like, and it causes anxiety. I wear scrubs and remain casual with the animals, and they react entirely different to me than they would a vet in a clinical setting.
"What makes Peak Performance unique is that we work with dogs, cats, and horses," Commerford continued. "Many mobile vet clinics work with either cats, dogs, or horses. Not many offer full services to all three."
For clients with cats and dogs, Peak Performance offers general exams, vaccinations, heartworm testing, administration of preventatives, lab work, chiropractic work, and acupuncture.
For horses, Peak Performance offers vaccinations, Coggins testing, equine dentistry, chiropractic work, acupuncture, and bloodwork.
In addition, Peak Performance Mobile Veterinary Services also offers in-home euthanasia.
"In-home euthanasia is more peaceful for both the owner and the pet," said Commerford. "It allows the pet to remain relaxed, while the owners gets to say goodbye in the private, comfortable setting of their own home."
For additional information, Peak Performance Veterinary Services LLC can be found online at www.ppvs-ks.com or on the Facebook page @PPVSLLC. Kristyn Commerford, DVM, CVA can be reached at (910) 225-4838 for questions and scheduling information.