On Saturday, July 25th, Seven Lakes North and South opened up the gates for a community-wide yard sale. The sale, which started at 10:00a.m and lasted until 3:00p.m, attracted eager shoppers and large crowds from across Moore County and surrounding areas. Visitors were greeted at the gate with a special guest pass and a list of registered participating homes.
The community sale allowed Seven Lakes residents to declutter and clean up their homes while making a bit of cash. Thanks to the enthusiasm of the shoppers, both local and visiting, most families came out with a tidy profit.
"I've only been out here for an hour and some change now and already made over two hundred dollars," said one resident. "My setup is even pretty small compared to others we've seen, so I'm sure there are plenty of families doing extremely well right now!"
There seemed to be something for everyone at the sale. Since families and individuals from all walks of life call Seven Lakes home, wares ranged from pristine antiques to video games and baby toys. According to sellers, the hottest items seemed to be furniture, women's clothing, and baby accessories.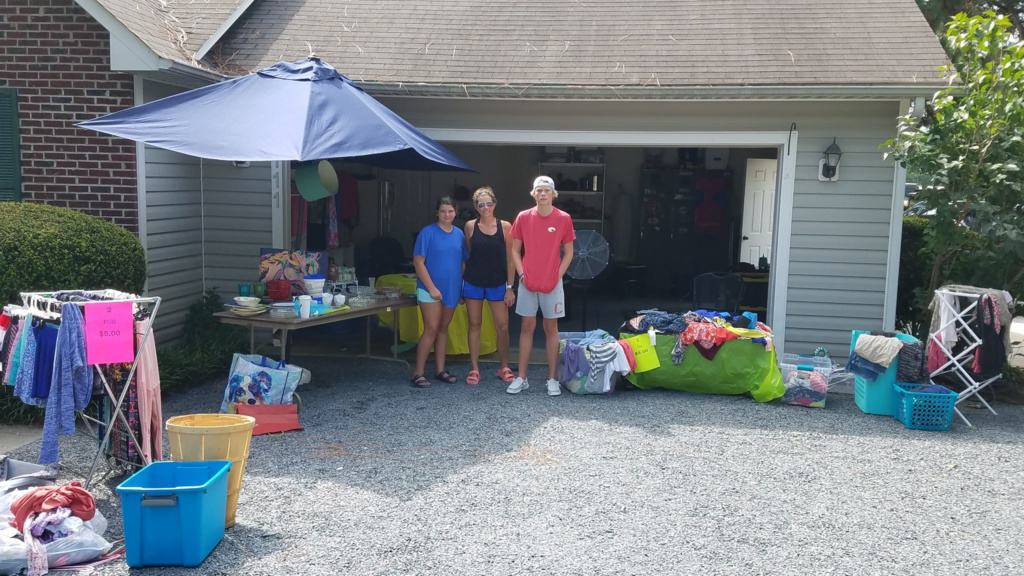 Participants arrived from far and wide to shop at the sale. During one particularly large rush, traffic awaiting entrance backed up Seven Lakes Drive past Food Lion and out to HWY 211. The community was bustling with shoppers traversing the sale on foot, in their vehicles, and from golf carts.
To the buyers' delight, there was a pleasant amount of variety in setup. Some sales offered individual items neatly arranged on tables, while others invited shoppers to rummage through boxes and bins to find treasures. A few sellers even accepted bank cards and electronic payments.
However, in addition to shopping, many visitors were enjoying the opportunity to visit Seven Lakes North and South. "I came for the sale, but wow! I'm in awe of the community," commented one shopper. "I might just go home and start looking for houses here!"
This was not an isolated comment; all around, visitors were singing the praises of Seven Lakes. "This place is huge! I thought Seven Lakes was just a big neighborhood. I'm really, really blown away," said another visitor. Others could be heard chatting amongst themselves about the beauty of the community.
Online, many residents are brainstorming possibilities to improve future community sales. Most are already open to the idea of an annual or biannual sale and looking forward to the future.