Joan and Charlie Firchum purchased their lot in Seven Lakes West in 1975 when the community was in its initial formation stages.
In fact, Charlie was on the original Board of Directors in the West Side community.
"It was a lot of work.  Fred Lawrence had a vision," Charlie said.  "And I'd like to see Seven Lakes stay within Fred's vision."
Charlie was born and raised in Carthage, remaining a Moore County resident for the majority of his life. He and his wife, Joan, both Navy Veterans, choosing to retire in the community.
Charlie had the inspiration experience of helping to evolve the community in its development during the early years.
He worked with Fred Lawrence to build upon a dream and make it a reality, believing that Seven Lakes would be one of the feature places to live in Moore County. He wanted it to continue to be a beautiful escape for those who live in the city.
Shortly after moving to their new home, Charlie started managing Johnson's Point, giving him a great opportunity to meet many of the residents, and getting around the lake.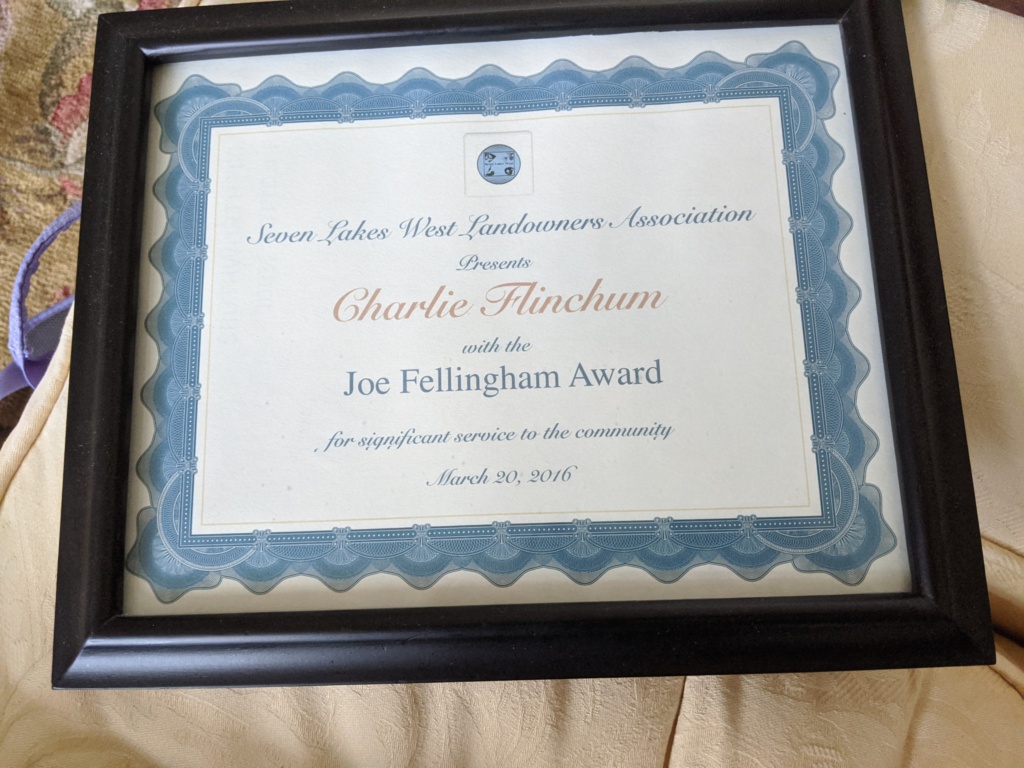 Charlie has always been one, if he sees something that needs to be done or someone in the community needs something done, "I'd like to do it," he says.
Having been on the board in just about every committee during his residency, his reputation as a diligent volunteer has been widespread.
"Charlie gets around the lake," Joan said. "A lot of people know him. If they need something, they call."
Despite their enjoyment of the natural beauty within the community, Joan and Charlie worry about the changes to community dynamics.
"It's getting too big too quick, and getting bigger every day," Charlie said.
"It has totally changed since we first moved here," Joan agreed. "People interacted more than they do today."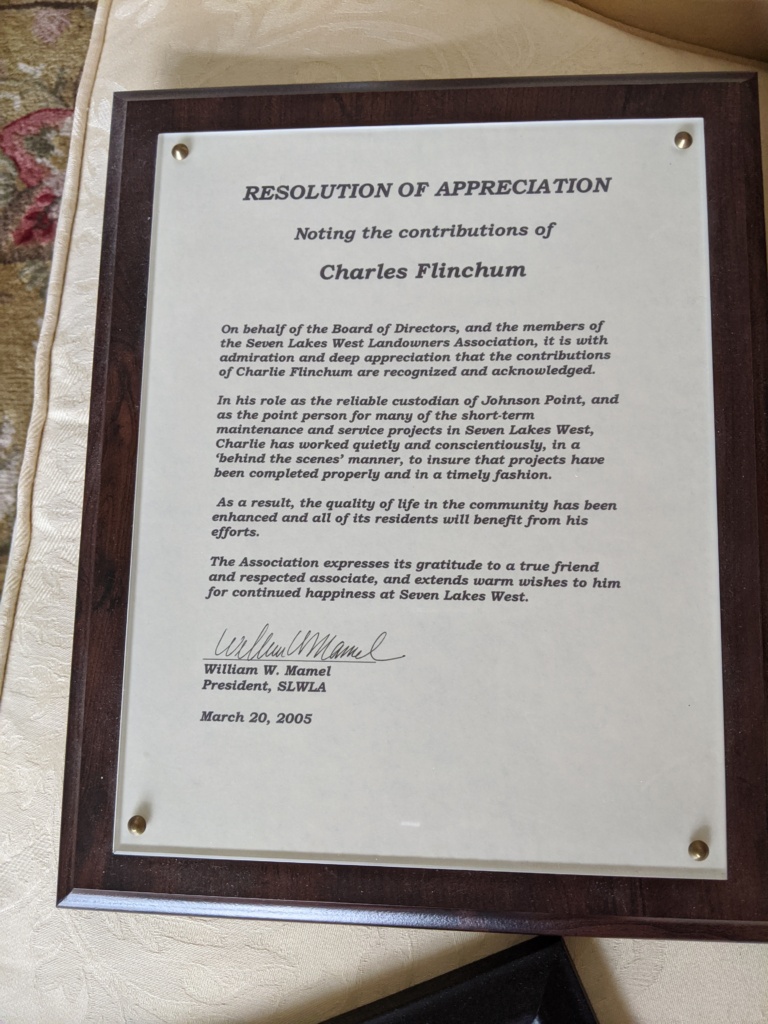 One main issue that concerns them is the lack of volunteers within the community. As an 85-year-old, Charlie is planning to leave the volunteer environment soon.
"We need the younger generation to step up. People like me are too old to do it," he said. "I have enjoyed being a volunteer and doing everything I could do help keep the people in Seven Lakes close together and making us one big happy family."
Charlie has received the Joe Fellingham Award for significant service to the community in 2016. He also received a Resolution of Appreciation back in 2005 for his contributions to the community.
"They call me the 'Honorary Mayor of Seven Lakes'," Charlie said.
Charlie and Joan believe that volunteers are what will continue to make Seven Lakes thrive. All ages may be considered.
For those interested in volunteering opportunities, contact the chairman of the committee.
Committee groups include Amenities, Architectural Review, Communications, Dam, Events, Infrastructure, Lake, Leadership Support, Legal Affairs, Library, Long Range Planning, Recruiting, and Safety & Security.
"We're hurting for volunteers," Charlie said. "We could use some teens to help with Johnson Point."