The Seven Lakes Garden Club hosted a plant exchange on Friday, October 9th in celebration of its 30th birthday.
The Garden Club's first meeting took place on October 8th, 1990 where Mr. Zeigler of Whispering Pines spoke on "Bulbs in the Fall." There were 60 attendees who each received daffodil bulbs.
In 1992, the SLGC had its first Garden Tour and Plant Exchange which continue to be a tradition to this day.
While Seven Lakes was still in development, the SLGC did a majority of the gardening in the community – including the North & South Side entrances. In the 2000s, the Club began focusing on learning and taking field trips.
Due to COVID-19, the club was unable to have their usual picnic, but they were able to have their Garden Tour which raised over $1000 for the Food Pantry at West End United Methodist Church. The funds went towards a well pump.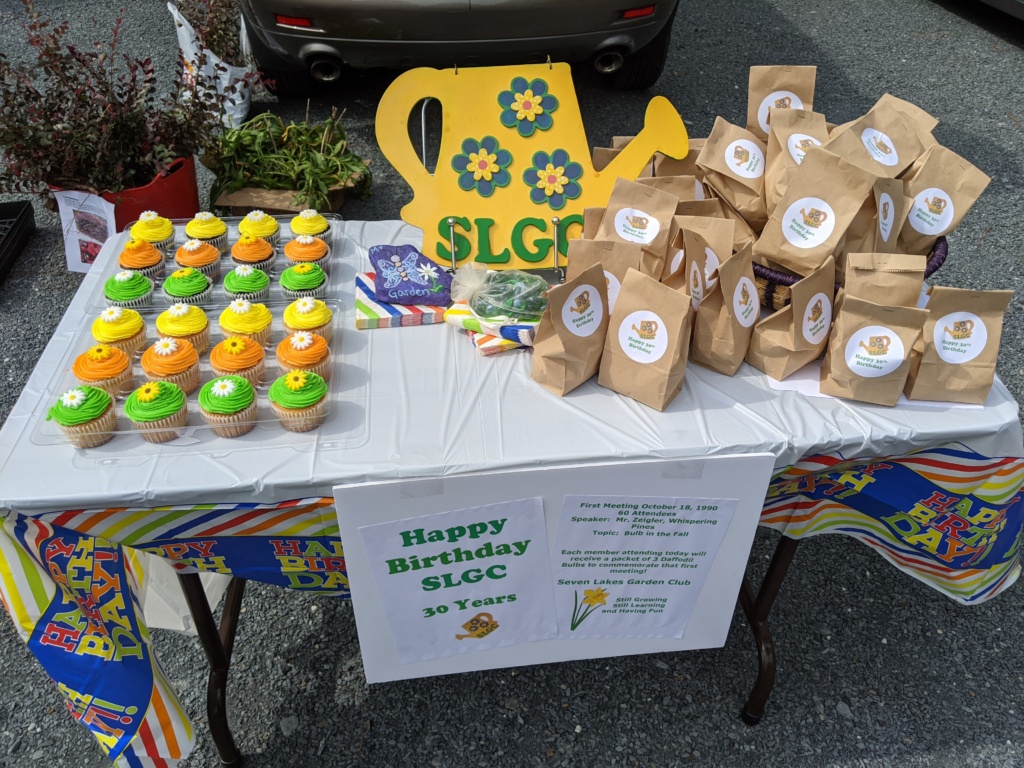 At the Plant Exchange on October 9th, members received cupcakes in celebration of the club's 30 years in addition to a party favor of 3 daffodil bulbs – just as in the first meeting in 1990.
Cars parked about 6 feet apart and precautions were taken as members laid out arrays of plants from their gardens for others to take home and replant.
"When you're new to the area, you can find something new to grow here," Tracy Board said.
"There's no dirt here, just sand," said Carolyn Sink who has been a member of the Garden Club for several years and acts as the secretary.
Jean Schmidt who has been a member for 3 years, presented Christmas cacti and other plants at the plant exchange. Her favorite parts of being in the Garden Club was when they went non a field trip to the farmers market and the Kernersville Botanical Gardens.
"The flowers were beautiful," she said.
Todd Lewis has been in the Club for 2 years and enjoys the plants and the people.
"It's a real nice fun group," Carolyn Sink said.
To learn more about the Seven Lakes Garden club or to become a new member, email Carolyn Sink at 89chsink@gmail.com.