Trevor Bourne, originally from Birmingham, England, has always had an interest in art and design. With art and engineering school both under his belt, he was able to teach classes on design in his home country.
The Classic Signs company started in 1988 in Carthage, NC as SAS signs before being purchased by Trevor and his wife, Lynn, in January of 1991.
Soon after, the couple and their sons, Thomas and Jack, found a wonderful lakeside home in Seven Lakes North.
The company currently operates out of their workshop located at 306 Fields Drive in Aberdeen.
For the last thirty years, Trevor and his team have had the pleasure of working with a wide variety of clients, from the local restaurants of Moore County to the flagship stores of Ralph Lauren in Singapore, Madrid, Paris, and London.
"We're here to help people represent themselves as best they can," said Shannon Butler, the newest member of the production team. "Part of our goal is helping other businesses to be successful."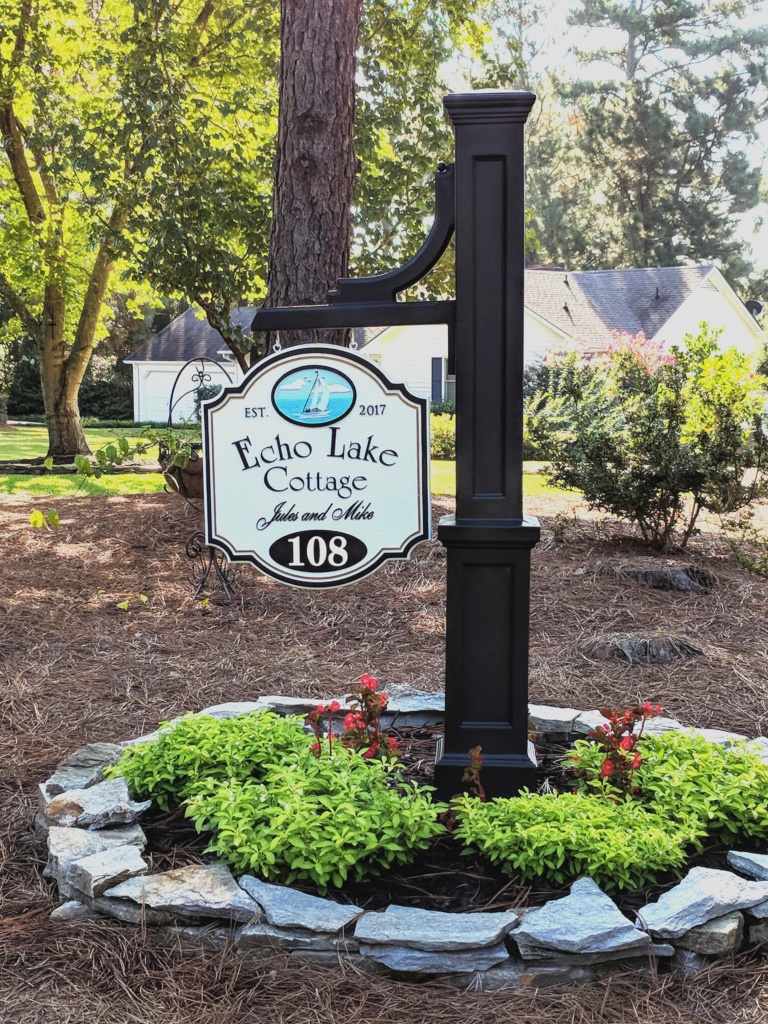 Along with business signs and community entrances, Classic Signs and Signblasters.com also provide quality house signs, expertly designed to complement the homeowners and the home's aesthetic. These are some of Trevor's favorite types of design work due to their fun and whimsical nature.
"I design the signs myself about ninety percent of the time," Trevor explained. "Sometimes, I have a good idea; sometimes, I have no clue of what to do."
Having done countless house signs in Seven Lakes, Trevor always makes sure to create designs that reflect the individual client.
Focusing on colors, fonts, and styles that stand out and catch the eye, he uses features such as beautiful gradient sunsets, detailed flowers, and gold leafed birds to showcase the owner's personal taste.
The design process starts with a few questions.
"I ask what kind of (architecture) house it is; do you live on a lake; is it a formal home or a ranch, etc. There's always something for somebody. It's just a case of finding what they like," Trevor said. "I never do any two signs the same, either. We use sunset designs a lot, but they are hand-painted and always different."
The quality designs may include many steps such as being lasered, chiseled, routed, etched, or more before resulting in a final product.
The icing on the cake is that these signs have a warranty of five years and are well known to last far longer. Many layers of Benjamin Moore paint, which lasts a long time, coat the signs and every bracket and support is engineered to last.
"Some of our signs are over fifteen years old and still look great, never repainted," Trevor said. "We care about the quality of work that we do. We've never been people that just churn it, out as fast as we can, for money."
For Trevor, the best part of any job is seeing the client's reaction to their new sign.
"It's very, very delightful," he added, "gives you a boost."
To start designing your own custom signs, visit SignBlasters.com and fill out the simple questionnaire, or call the office at (910) 295-0400 ext. 102.