BY LAURA DOUGLASS
Staff Writer
The visionary developer and the "voice" of the Seven Lakes community were honored on Saturday when side-by-side bronze plaques were unveiled at the village's business green to recognize Fred Lawrence and Greg Hankins.
Organizer Alan Geiger of the Seven Lakes Village Beautification Committee said the project had been underway for the last three years.
"We are so pleased that we were able to do this and have Greg and Fred's families attend the dedication. That was the most important thing to us," Geiger said.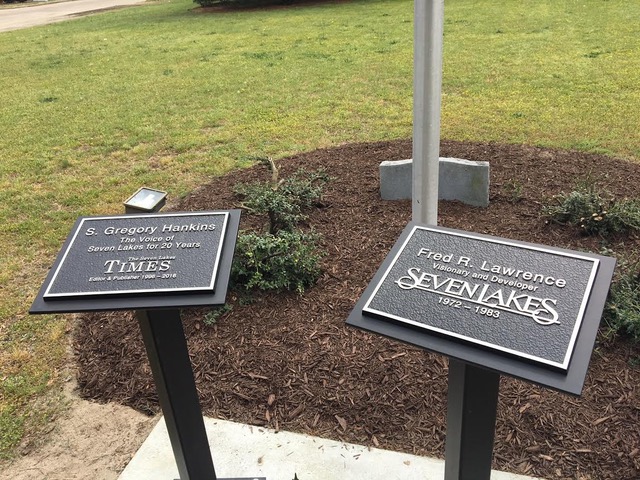 A Sanford businessman, Lawrence was quail hunting on rural land in West End in the early 1970's when he followed his dog to a natural lake basin in the woods. Looking at the contours of the landscape, he saw potential. Shortly thereafter, he formed a partnership to purchase 1,100 acres of the surrounding ground and began to develop what would become Seven Lakes.
Today, Seven Lakes has a population of more than 5,000 residents. The original gated community of Seven Lakes North & South stands at 1,545 acres with over 1,500 residential lots. Across the road, Seven Lakes West is the larger of the two gated communities with more than 3,000-acres and 2,000 lots.
Longtime resident Gayle Mace said she knew Seven Lakes was where she wanted to live and raise a family upon her very first meeting with Lawrence and his wife, Mary Edna. Mace's husband, Kenny, has owned and operated K.R. Mace Electric Co. for several decades in the Seven Lakes business village. Their son also makes his home in Seven Lakes, as does their daughter, who founded the L. Mace Dance studio in the Seven Lakes business village.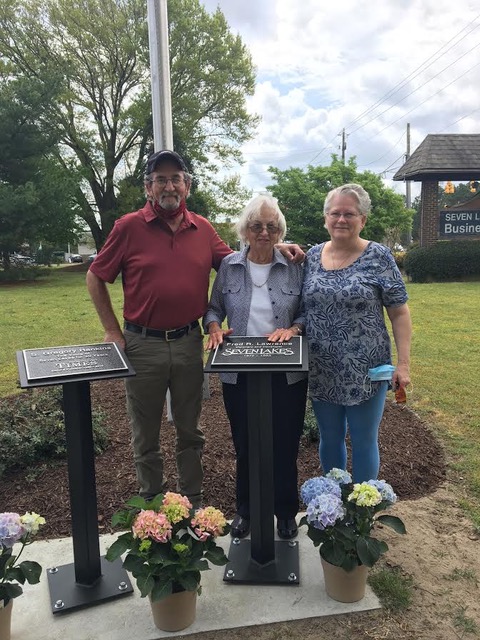 "We have this amazing, wonderful life because of this man who fulfilled his vision," Mace said. "He built it not only for himself but for others to enjoy."
Lawrence died on Feb. 19, 2016, after several months of declining health. Mary Edna Lawrence, son Joel and her daughter-in-law Carolyn attended the plaque dedication.
Greg Hankins and his wife, Marcy, purchased the Seven Lakes Times newspaper in the late 1990s, after having moved to Mount Gilead a few years earlier to run the Montgomery Herald with his father. While Hankins studied religion in college and even earned a master's degree in divinity at Harvard University, the native of Virginia coal-mining country followed family tradition to spend his entire career in news.
In his 20-year ownership of the community-based newspaper, Hankins served in all roles from advertising sales, news reporter and photographer, editor and publisher. He was known for his even-handed approach in covering local politics and respected for his thoughtful commentary on controversial issues.
In what was to be his final editorial, Hankins offered a call to action. He encouraged people to volunteer their time to rebuild not only infrastructure but the vibrant sense of community spirit that Seven Lakes established in its early years.
Hankins died on July 24, 2016, after battling cancer. Marcy Hankins and her daughter, Sarah, participated in the plaque dedication. The couple's eldest daughter, Jeni, lives in England and was unable to attend.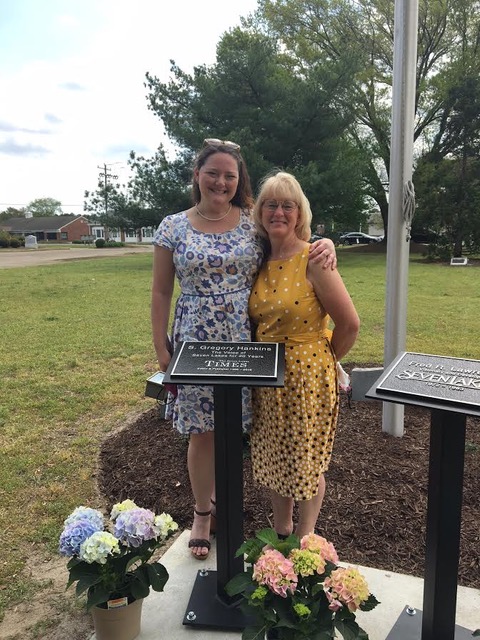 "It is good that we can honor these men for their accomplishments. Greg was the voice of our community and we also remember Fred's vision," Geiger.
Geiger also thanked his wife, Linda, Russell Williamson, Rob Sylvester, Jerry Ward, and Carolyn Sink for their assistance with developing the memorial. Private donations funded the project and local business owner Elaine Yow Girgis donated the actual land for the site. In addition, the Seven Lakes Garden Club provided flowers for the service.
Contact Laura Douglass at (910) 693-2474 or email laura@thepilot.com