It Was More Than Football.
It Was Love and Family.
Editor's Note: On May 10, longtime Pinecrest High School football coach Chris Metzger announced his resignation after 14 seasons to take a similar job next door in Montgomery County. He wrote this column as a "farewell" to the community.
How do you say goodbye to a group of young men who, for 14 years, believed in a blueprint focused on creating champions in the game of life, and a community that never said no and never let you down because they believed in it just as strongly as you and your players.
You try to express to them — in 700 words of less — how much they mean to you, how much you appreciate them and most of all how much you care and love them.
I have not written a paper since 1998 so bear with me on this. The old saying goes that time flies when you are having fun. Well 14 years has certainly flown by. As I look back on our arrival in March 2007, Lexy was 9, Austin 7, and Jadyn 5. Everyone told us "give it a year and you will never want to leave." They were right.
My oldest daughter gave me a plaque for Christmas in 2008 that said, "If you love what you are doing you have never worked a day in your life." Beyond a shadow of doubt for our 14 years or seasons that was absolutely the case.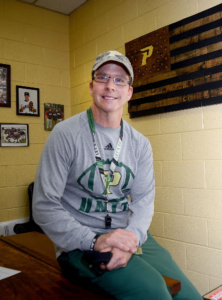 What made it so rewarding and enjoyable were the student athletes we were so blessed to serve here at Pinecrest. We set out to make a difference for the undefeated team, with a theme, "Rip off the Rearview Mirror." We never wanted to focus on the past. We set out to build a program — not just a team — built on a blueprint of building champions in the game of life with an emphasis on four pillars: love, effort, focus and trust.
The comradery created in those early morning workouts, practices, team camps and community service projects is sometimes hard to understand from the outside looking in. To put it into words, it all starts with a brotherhood that is built on the four "Pillars for Life" that our program adopted and that our players can recite and explain in depth.
It all starts with love, or, to love one another. It may sound superficial, but for 14 years the word "love" flowed throughout our field house, weight room, practice field and game field.
The love our staff has for our players was unmatched. The love our boys had for one another was evident everywhere, whether it was a big game celebration, a signing day, or even the funeral of a brother.
Our boys always knew they were loved, and we as coaches knew it was reciprocated. The phrase "Love you, got your back" became a staple in our football family.
As one of six kids to amazing parents, we were not a big "I love you" family. It was just known. But it became a reality, the love for our players here at Pinecrest, since we were with them more than our own kids.
It is impossible to explain how uncommon our players were. They were asked to give up tons of sleep to make all the early-morning practices, meetings and workouts. We constantly emphasized servant leadership — the greatest form of leadership — and our boys came through, always understanding how they were the "front porch" of our school.
There are so many memories of the Friday-night-light successes, where they were underdogs, but their belief in each other. No matter what the shape, size or color was, they went through it together. Even amidst a pandemic and major civil unrest in our country our Patriot Football Brothers never flinched as they, like all their brothers before them, represented the blueprint and pillars.
Zig Ziglar said if you're breathing you need encouragement. Well, for 14 years the thousands of brave young men who wore the green and gold did this for an entire community and did not even know it.
These Patriots have seen it all, from players going to be with the Lord, to coaches getting married, to coaches having children. When I say we were a family — and will always be a family — I mean it.
Personally I want to thank all our players for believing in us and loving us. Kathy and I will miss all of you.