BY MACKENZIE FRANCISCO
Staff Writer
On the exterior, the Grill Me Up food truck looks like your typical roadside sandwich stop.
But on the inside, owner Jim Ostander flips fresh crab cakes on the griddle and braises patty melts that offer the big flavor profiles found in a sit-down spot.
Grill Me Up hit the road for the first time earlier this month, posting up outside of Barron's Boutique in West End.
Ostander, who worked as a server and bartender at Chef Warren's in Southern Pines for 15 years, has dreamed of starting his own truck for the past six years. When the pandemic turned the service industry upside down, he jumped at the opportunity.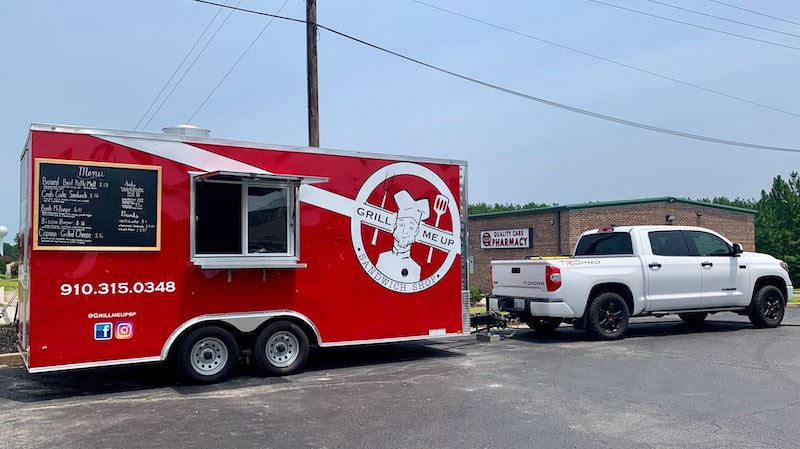 From Asian-style banh mi burgers to caprese-grilled cheeses, the Grill Me Up's menu rotates weekly, but consists of unique sandwiches crafted from locally sourced meats, veggies and cheeses.
"I wanted to create something different," Ostander says. "Those cooking styles you don't see every day, and the flavors that are hard to come by."
Sides include season fries, cheese fries, gravy fries made with braised beef and a demiglace, and a soup of the day. Homemade lemonade is also on the menu.
Although Ostander hasn't settled on a regular location for Grill Me Up, he has plans to take it to area neighborhoods, events and more.
To learn more about Ostander and Grill Me Up's whereabouts, check them out on Facebook and Instagram.
Contact Mackenzie Francisco at mackenzie@thepilot.com or (910) 693-2485.