By JONATHAN BYM
Staff Writer
When Seven Lakes resident Karolyn Emore goes to the White Lake Fall International Sprint Triathlon in September, she will return to the triathlon setting that she competed in many times in her 20s.
But this time, the experience will be different with a partner by her side that she says pushes her, while she will be the one pushing and pulling her partner the 17 ½ miles of the course.
The idea of competing in a triathlon with a partner originated when Emore saw legendary Boston Marathon participant Dick Hoyt on TV pushing his son, who had cerebral palsy, in a wheelchair while running the 26.2 miles.
Emore recently saw Brandon Rizzuti, a Durham resident with cerebral palsy, posting online in a Facebook running group looking for someone to run with in hopes of completing a 1,000-mile journey this year. The pair struck up a friendship right away.
"I think it was my second run with Brandon that I said,' Hey, do you want to do a triathlon because I would just love to do a triathlon with you,'" Emore said. "He's up for anything. He will do anything, except for jump out of an airplane."
Competing alongside Emore, Rizzuti will be pulled in a boat behind Emore in the swimming portion, then put in his wheelchair that can be equipped to be pulled behind a bike and then fashioned back to a wheelchair for Emore to push him for the 3-mile run to close out the race.
"He's non-verbal also so if I can be his arms and his legs and his voice in any capacity, then that's what I will do," Emore said. "It's just an amazing friendship that we have formed."
The friendship has been formed through a handful of races in recent months, as well as other tough moments training for the longer-distance runs.
Emore recalls going for a run with Rizzuti that involved a large hill for the pair to go up. Halfway up, the hill got the most of them, which made Emore mad that she was possibly letting her partner down as her pace slowed to a walk. At the end of the run, with a half-marathon coming up for the pair, she did four hill sprints to avoid that happening again.
"He definitely pushes me. When we are running, if a hill is coming up, he always gives me fist bumps," Emore said. "He inspires me because I am his legs and I don't want to disappoint him. He pushes me more than I push him and I tell him that. I said, 'You make me a better person. You make me a better runner for sure.' He just has this light about him that people gravitate towards him."
Rizzuti's fist bumps come often, just like his infectious smile, which comes when he's on the open road during runs. His goal of 1,000 miles is well over halfway now with more than four months left in the year.
"We've done four races so far this year together," she said. "A couple 5Ks, a 5-mile run and then we did the Tobacco Trail half marathon."
At the end of every race, Rizzuti is picked up out of his chair and carried across the finish line.
"Just to give him that experience is all the reward in and of itself," Emore said. "I try to keep track of my time and run at a pretty decent pace, but just knowing that I'm out there doing something for someone is really all that matters."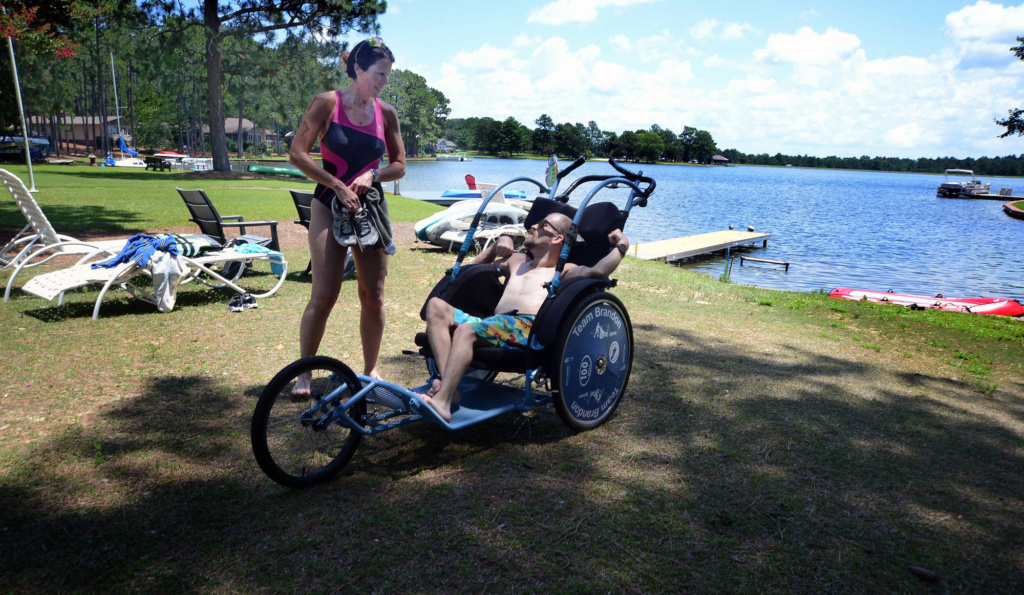 Emore, 48, started running in high school and has never slowed down. Now an english teacher and track coach at North Moore, Emore previously stepped away from competing in triathlons as she started having children, and recently picked up the multi-faceted competitions with her middle daughter. A half-Ironman race in Puerto Rico is scheduled for the pair in March.
"It's been in my blood. I've always been a runner," she said.
Normally, Emore says her workout regimen includes running 5 or more miles multiple days a week with a longer run of up to 10 miles once a week. Swimming a mile occurs twice a week and she bikes – her least favorite part of the three events – around 10 miles sporadically. With the triathlon approaching in nearly a month, Emore is expecting to ramp up her training in the coming weeks by herself and with Rizzuti when possible.
Contact Jonathan Bym at (910) 693-2470 or jonathan@thepilot.com.