By MARY MOORE
Staff Writer
Moore County residents are finding ways to get involved in the effort to aid evacuees from Afghanistan.
Until recently, a church in Carthage was running an emergency supply collection service.
"Many people in our congregation know people in Afghanistan, have seen what people have gone through, and they want to make a difference the best they can," said Donna Kokes, administrator at New Covenant Fellowship Church in Carthage, whose congregation includes a number of veterans, military personnel, their spouses and families.
According to Kokes, a member of the church came forward a couple of weeks ago with a request for donations to Afghan people in need. The individual had a connection with someone who was making regular flights into an area with evacuees and who offered to take over any supplies that could be collected.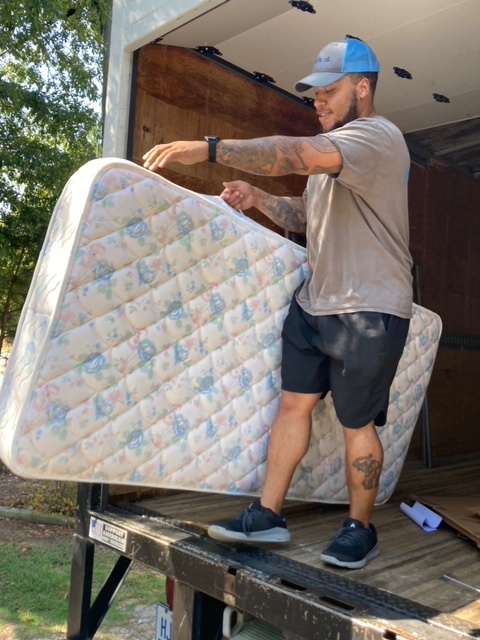 The response from the congregation was overwhelming, said Kokes. People had collected diapers, baby formula, wipes and other essentials. The donations were eagerly accepted but the flights were put on pause.
"We're now looking for other avenues to give," said Kokes. "If anything pops up, we'll jump on that bandwagon and try to help out as best we can."
When Britt Harris, who lost her own husband in Afghanistan several years ago, began collecting supplies for refugees with fellow military spouse Michelle McGann, she approached long-time acquaintance Keith Moneymaker for assistance. Moneymaker, who owns Sweet Dreams Mattress & Furniture in Southern Pines, is also the founder of the nonprofit called Dreams 4 All. The foundation provides mattresses to low-income individuals in the area.
The organization currently has a surplus of mattresses to donate. Harris connected Moneymaker with The Welcome House in Raleigh, a nonprofit working to settle evacuees. Dreams 4 All was able to provide 5 mattresses for a family moving to Raleigh, and says it will not be the last time he contributes to an organization settling refugees.
"WIthout a doubt, we will start getting more requests from people," said Moneymaker. "This is not taking away from what I'm doing in this area, we're still able to help families, so why not extend our reach?"
U.S. Rep. Richard Hudson, whose district includes Fort Bragg and parts of Moore County, has been receiving long lists of names from Fort Bragg. The names represent people who helped the U.S. military and are now at risk under the Taliban.
"Congressman Hudson has been working on this for years," said Hudson spokesman Greg Steel. "mainly after hearing from different veterans, service members, active duty at Fort Bragg — certainly those from around Moore County — that they're alive to this day because of this person and or that family over there."
Hudson has been advocating for visas for Afghan allies ever since talks of withdrawing from the country began a couple of years ago. According to Steele, 98 percent of the people on Hudson's current list have been evacuated, and more names are added every day. Out of the 1,200, Steele reported, roughly 20 American citizens, along with several dozen permanent residents with American passports are still stranded in Afghanistan.
Some refugee families are already being settled in Fayetteville, according to Church World Services of North Carolina director Ellen Andrews.
CWS is one of the major nonprofits helping resettle refugees. But the process has been fairly private, and the majority of the incoming families working with CWS are moving into parts of Durham and Raleigh.
"But it's possible we might be settling more refugees outside of the Triangle, where people have family ties and military connections."
Contact Mary Moore at (910) 693-2462 or mmoore@thepilot.com.