BY MAGGIE BEAMGUARD
Insider Editor
It's been three long years since Susan Terrell and her husband, Jim, moved their store, West End Antiques & More from their prime location at the intersection of N.C. 73 and N.C. 211 to a storefront in the labyrinth of the Seven Lakes Business Center.
The change came in 2020 when Terrell received a 90-day notice from the state that she would need to move out to make way for the widening of N.C. 211. She looked high and low, east, west, north and south to find a new spot: Carthage, Aberdeen, Southern Pines and Pinehurst. But there was nothing comparable to the 6,000 square feet she operated. Eventually her landlord helped her secure the current, downsized location.
Since the move, Terrell has faced a number of challenges. The location at 119 N. Trade St. lacks the visibility she once had. People used to stop by as they drove through to the beach or to Pinehurst.
Terrell does what she can to catch people's eyes, hanging decorative flags when the store is open and turning on the twinkle lights in the windows, but there isn't a convenient way to advertise her presence from the main thoroughfares of Seven Lakes.
Shortly after opening the doors, COVID-19 precautions forced them closed for two and a half months. "I came back and started the store up again, but nobody was coming in because they were still afraid of COVID. But I just kept pushing." Her mantra has been "it's gonna get better."
Then her worst nightmare happened. Terrell's beloved husband and business partner, Jim, succumbed to COVID after an extended stay in the hospital in the spring of 2021. She was on her own.
The pair had retired to the Sandhills, where Terrell was born and raised, with the dream of opening a shop. They had spent 30 years in Chattanooga, Tennessee — he worked as a mechanical engineer and she as a paralegal. Antiquing was the thing they did together.
"That was our fun time. It was work when you cleaned it all up and fixed it. But it was fun, and we enjoyed it," Terrell said. In Tennessee they kept up two booths of antiques.
Her penchant for collecting started as a child. While her family had means, she says, they were not wealthy. But her mother collected china. "To get a set of china, she would buy a piece at the grocery store. Each week you could get something different. As I was growing up that was one of the most amazing things to me," Terrell recalls. "I was excited to go with her to the grocery store so we could get a new piece of the china set."
Terrell said her husband knew how much she loved the store. When he got sick he told her "If anything happens to me, you keep doing your store. Don't give it up. I think he would be happy that I'm keeping on with it."
With that blessing from Jim and her mantra, Terrell keeps going. "I just keep pushing. And I enjoy doing the store. And I certainly don't want to lose the store." she said. "New people are moving here all the time and finding out about us. They come in and tell me how nice it is and how much they like it and they buy something." Some of her older customers appreciate the convenience of having a store they can shop without having to drive into town.
West End Antiques & More sells plenty of antiques, including glassware, Terrell's personal favorite. But she is quick to emphasize the second part of her store's name "More."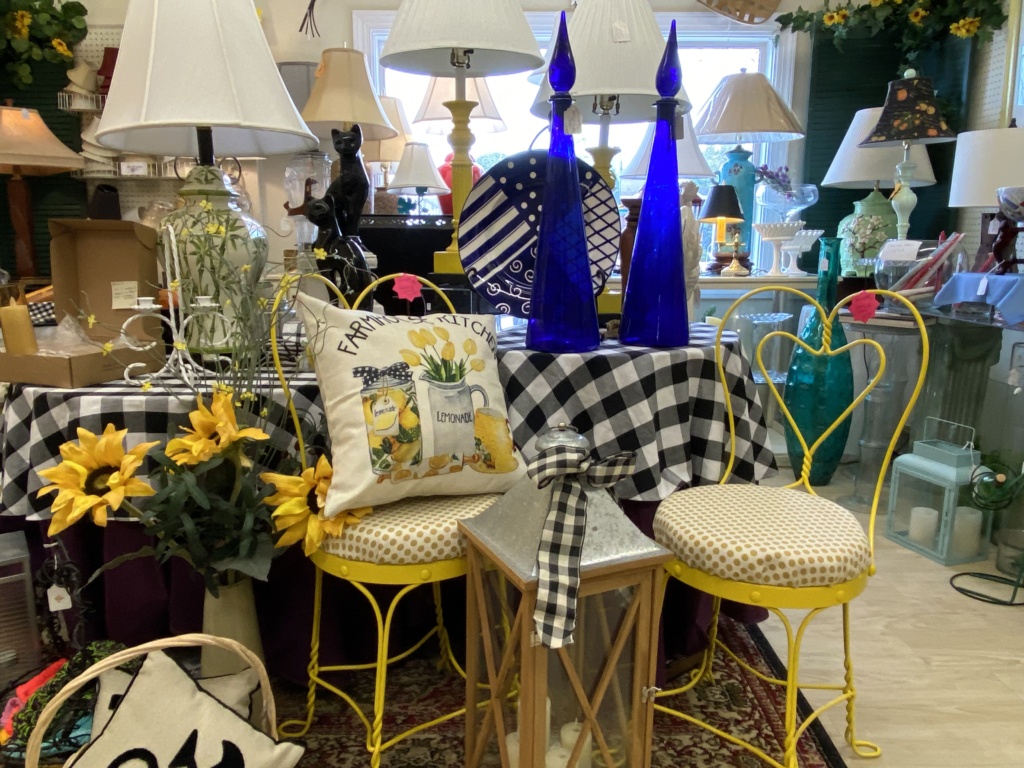 "The name of my store is West End Antiques & More." Terrell said. "And I did that when I opened the store in 2016 because I wanted people to know it's not just an antique store. A lot of people don't like antiques. So we also have gently used and we have new."
Among the "More" she carries are Dixie Belle chalk paints and products; live, indoor plants; handmade items, many locally made, including decorative highland cows, gnomes, baby blankets, local pottery, quilts, dish towels, and charcuterie boards; and plenty of vintage glassware and plates, furniture, fishing lures and reels, art and stuffed animals.
The one-of-a-kind lamps made by local Paul Lear are a showstopper. He makes lamps from just about anything he can get his hands on from ginger jars to ceramic chickens. If someone has an object at home they'd like to be made into a lamp, they just need to bring it to the store.
He once extracted a vintage bottle inside a chunk of concrete, carefully chipping away at it before turning it into a lamp. "It was absolutely gorgeous. It stayed in the store for just two days. It sold really quickly," Terrell said.
"It's a smaller store," said Terrell. "People don't know what all is in here when they just drive by. There is a good variety of things." Since she lost 4,000 square feet in the move, she can't carry as many pieces of large furniture. "But the store turns over pretty quickly. It's not the same thing all the time."
Terrell, who keeps pushing on, hopes people will pop in to see what West End and Antiques & More is all about. She believes in her store and thinks people who stop by will have the same experience of a recent customer who said "I'm in shock because I had no idea the store was this nice. I thought it was just a musty old antique store!" According to Terrell the new customer bought seven things and said on her way out the door "I'll be back! I love this store."
West End Antiques & More is open from 11:00 a.m. to 4 p.m. Wednesday through Saturday.
Contact Maggie Beamguard at maggie@thepilot.com.