BY ELENA MARSH
Staff Writer
UPDATE: Following the Moore County Planning Board meeting, the applicant withdrew the rezoning request.
A proposal to rezone land that could allow a group care home in Seven Lakes appears less likely now following stiff opposition from nearby homeowners and a negative recommendation from the Moore County Planning Board.
The land is owned by JDAD Enterprises and is located between Grant and McDonald streets in the Seven Lakes business district a block off of N.C. 211.
The original proposal would have allowed for a group care facility on three parcels totalling 1.39 acres that are currently zoned Village Business. Part of the site includes an existing office building used by Pinnacle Family Services, which currently works with at-risk youth and their families.
A rezoning would not necessarily have permitted the group home, said senior planner Ruth Pedersen. Any applicant would have still needed a special-use permit, which is subject to another public hearing.
The Planning Board ultimately voted that a rezoning would be inconsistent with the county's land use plan and recommended that the Board of Commissioners deny the request.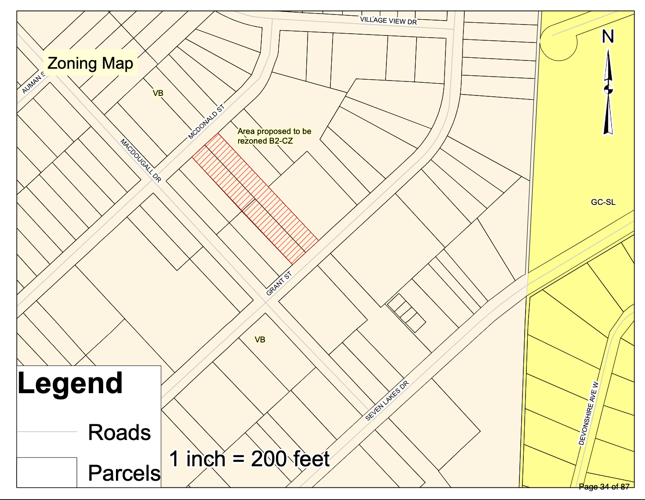 Planning Director Debra Ensminger said the applicant, who did not speak at the hearing, "was approached by the Department of Public Safety to utilize their facility."
The definition of a Group Care Facility, according to the Child Welfare Information Gateway run by the Children's Bureau under the United States Department of Health and Human Services, is as follows:
"Group and residential care programs are each a type of live-in, out-of-home care placement in which staff are trained to work with children and youth whose specific needs are best addressed in a highly structured environment. These placements are time limited and offer a higher level of structure and supervision than what can be provided in the home. … Examples include community-based group homes for adolescents who are pregnant and parenting or residential campus facilities for children and youth with mental health or behavioral problems."
Concerns were raised by about a dozen members of the Seven Lakes community, many of whom cited the potential dangers of bringing children with troubled backgrounds into an affluent community.
"Bad guys are bad guys, okay?" said Seven Lakes resident Thomas Virgilio.
"They start off as bad guys and they end up as bad guys. Anybody who thinks that troubled youth are going to change are wrong. Troubled youth have friends and those friends come to visit and we call those friends co-conspirators. They come into the area and they go 'holy smokes, there is an affluent subdivision. You know what that means? That means there is money here. We can feed our habits and we can steal.' That's what happens."
Audience members applauded his remarks.
"The word 'troubled youth facility' is kind of blanketing," said Seven Lakes resident Michael Yannone, who spoke later in the meeting.
"Are we talking about schizophrenic behavior? Are we talking about sex offenders? Are we talking about violence? Are we talking about any other kind of other deviant behavior or all of the above? It would be dangerous.
"I also believe that considering Moore County is a Republican hot seat and most Republicans have guns, it could become very dangerous for everybody. Two o'clock in the morning, somebody finds somebody in their backyard and their security system goes off, oops! Now somebody from the facility has been shot. It might be out of the realm of possibility but the possibility does exist."
There was concern raised on behalf of the young people that could potentially become a part of the community.
"I agree with everything my neighbors have been speaking about," said Seven Lakes resident Jean McCarroll Ward.
"One of the concerns that I have is, if you are familiar with Seven Lakes, it's a little tiny community. We don't have a lot of restaurants. We don't have a movie theater. We do not have a park. We don't have a lot for young people to really do. My concern is that you're bringing in troubled teens and there is nothing for them to do. So they will come out and walk through our community. It's just not the place for this."
Several speakers also raised concerns about the lack of police presence in the community.
"All we have for policing in Seven Lakes is Moore County deputies," said Seven Lakes resident Judie McNeil. "I can't tell you the last time I remember a deputy coming down our street in Seven Lakes."
There is one Moore County Sheriff's Office deputy assigned full time to the Seven Lakes and West End area. Because it is the largest unincorporated area of the county, the sheriff chose to have an assigned deputy to the area. Since the deputy's hours vary, there are also supplemental deputies that patrol the area.
The Planning Board's recommendation will go to the Moore County Board of Commissioners for a public hearing on Nov. 21.
Contact Elena Marsh at (910) 693-2484 or elena@thepilot.com