On Thursday, September 21st, Moore County Animal Services was at the Quality Care Pharmacy in Seven Lakes to reach out to the community and proudly display their new trailer they received that morning.
The trailer was designed to temporarily house twenty-two adoptable cats and dogs while at adoption events.  With the trailer, more animals could be brought to events and reap the benefits of the air-conditioned trailer instead of standing in the heat.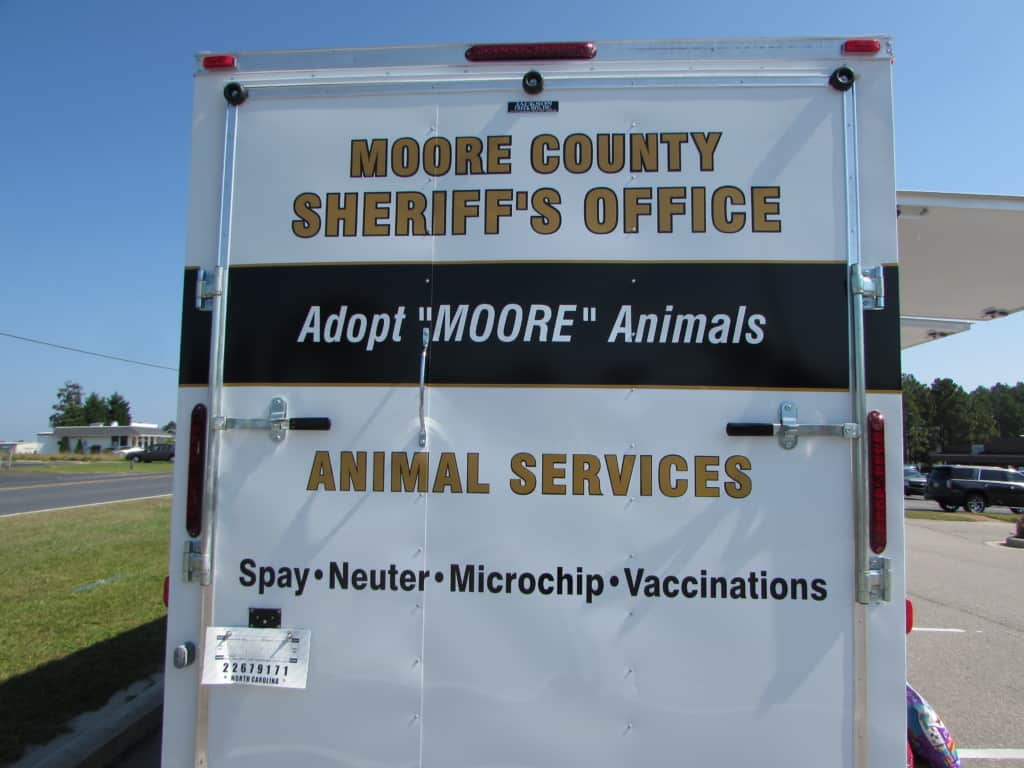 Animal Services will have the trailer at PetsMart during the month of October on Mondays, Wednesdays, and Fridays to help adoptable pets find homes.  They will also be attending future events such as the Open House at the Seven Lakes Fire Department on October 21st from 1:00PM to 4:00PM.
"If [there's] a big event, that trailer's going to be there," said Lieutenant Forest Kirk.
Lieutenant Kirk has been heavily involved with Animal Services since the Sheriff's Department took charge of it earlier this year.  While the trailer is exciting news to Animal Services, there are still more upgrades to come.
Lieutenant Kirk is currently overseeing projects at the shelter such as installing a self-watering system, a new washer and dryer, an upgraded security system and cameras, a new washtub, and new stainless steel kennels for the cats.  They will also have an epoxy floor coating in the shelter.
"[One of the biggest improvements since the Sheriff's Department took over is] professionalism," said Captain James Furr.  "We're a lot more professional and a lot more public-friendly."
One new addition to the Animal Services team is Veterinary Technician Marissa Alford.  She began working at Animal Services nearly a month ago, and she loves seeing animals reunited with their owners.
"It's a very rewarding position," she said.  "[My favorite thing] is the success stories."
"We're serving the community…" Lieutenant Kirk said.  "We're a lot more proactive with adoption events."
Deputy Mike Kantorowski also attended the event to collect old and unused medications to be properly destroyed.
Quality Care Pharmacy hosted the event and provided a free lunch to attending community members.  They also display their support for Animal Services daily as they collect pet food in-store and raise funds for Animal Services with T-shirts.
"We're going to work with them later to do clinics," said Kelly Collins from Quality Care.  "[We'll] help any way we can."