FirstHealth Convenient Care provides treatment for all your immediate but non-life-threatening illnesses and family medical care needs.
"Convenient care is like a walk-in clinic with extended hours," says Lisa Hanna, R.N., director of FirstHealth Convenient Care. "Our primary goal is to fill the void between a true emergency and preventative care from a primary doctor."
Convenient care is appropriate for such common illnesses as colds, strep throat and sinus infections. The full range of services includes injury treatment, pediatrics, sports physicals, TB skin tests and flu shots. Imaging and lab services are also available.
Patients are provided with a one-stop option for unscheduled care by a medical team led by a board certified physician specializing in family medicine.
"Convenient Care is open after hours and on weekends," says Hanna. "It gives the community access when otherwise they couldn't have access. Convenient Care is not meant to take patients away from their doctors, but to provide more convenient treatment when primary care doctor offices are closed or booked."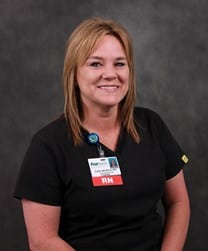 Hanna transitioned from an emergency department (ED) nurse to the Director of FirstHealth Convenient Care in July of 2014.
In her role, Hanna travels to the multiple FirstHealth Convenient Care sites to ensure everything is running smoothly.
"FirstHealth's core purpose is 'to care for people'," says Hanna.  "In this role, I feel I have the opportunity to do just that and it is absolutely rewarding."
While Convenient Care is available to the community, there is a fine line between what can be cared for at FirstHealth Convenient Care versus what should be cared for at the ED.
"I would like for patients to know when to go to the ED versus when to go to Convenient Care," says Hanna.
For example, according to Hanna, someone suffering from chest pain or shortness of breath should make his or her way to an emergency room as quickly as possible.
"We will stabilize them, but they will need a higher level of care," she says.
There are currently four Convenient Care locations – Whispering Pines, Pinehurst, Sanford and Hamlet.
A fifth location is slated to open on May 15 in Raeford, and an additional Sanford location is planned to open in the fall of 2018.
All of the Convenient Care locations (with the exception of the Hamlet location) are open from 8 a.m. to 8 p.m.
"FirstHealth is giving open access to patients who wouldn't have these services," says Hanna.
One thing that makes Convenient Care practical is co-pay.
"We accept all major insurances," she says. "Most patients pay primary care co-pay, which is lower than the emergency room."
And what makes FirstHealth Convenient Care even more convenient?
FirstHealth currently has the ED and Convenient Care wait times online so patients can see how long the wait time is at a location.
"Again, our goal is to provide easier, quicker access for our patients," says Hanna.
To learn more, visit www.firsthealthconvenientcare.org .