During this nationwide time of need, Burney Hardware of Seven Lakes has teamed up with Sandhills 3D to manufacture 3D printed masks for first responders and medical professionals. Sandhills 3D approached store manager Sam Ransdell about printing masks for those on the frontlines of the pandemic, and Ransdell was immediately on board for the cause.
So far, masks have been donated to over fifty two local agencies, departments, and offices dire need of masks for medical professionals.
"Local first responders were reusing masks, which is dangerous," said Ransdell. "When it's hard to find the essentials, we have to find alternative ways to make ends meet."
After beginning production at Burney Hardware, Ransdell reached out to other hardware stores and businesses equipped with 3D printers in the local area to recruit them for mask creation.
"We decided to reach out to all 3D printers in the area and offered to supply the blueprints and plastic filament if they would join us," explained Ransdell. "Donations and dedication have made it possible to buy the amount of filament that is needed for a project of this scale."
Word traveled quickly that Burney Hardware was able to produce masks; what started out as a few initial orders soon turned into three hundred, which rapidly rose to over one thousand orders. It was apparent that Burney Hardware could neither fund the entire project nor sustain production without more help, so Ransdell enlisted the help of Tim Thompson of Kreativ Designs out of Rockingham. Thompson not only aided in production, but also assisted in upgrading the initial design.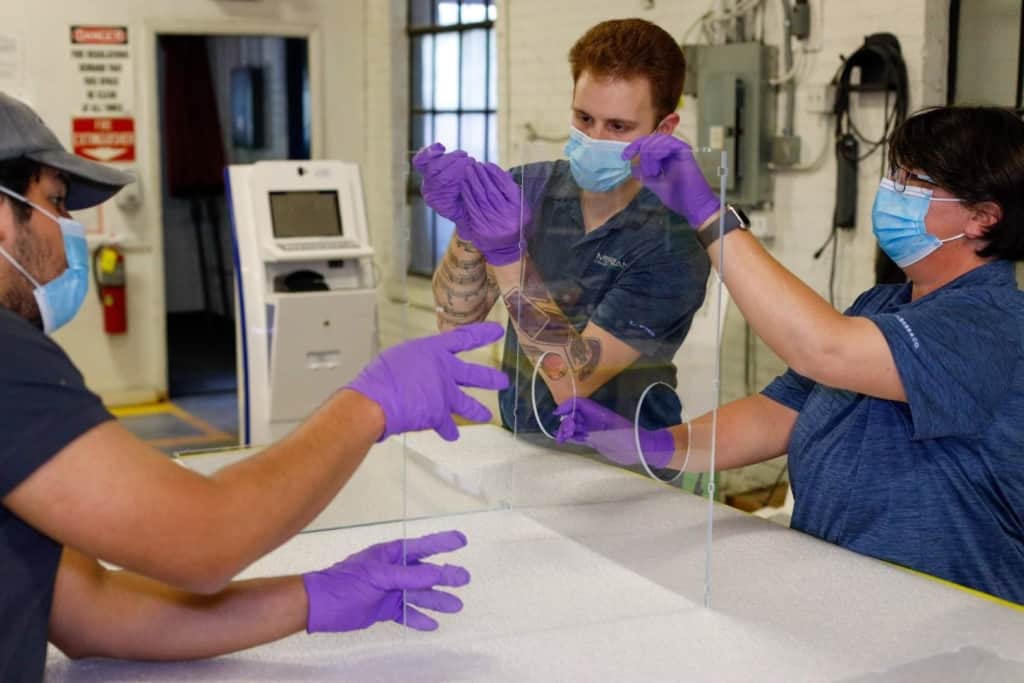 "To date we have distributed over seven hundred reusable masks to over forty five local agencies, offices, and workers on the front lines that are in immediate need," said Ransdell. "Currently we estimate that if our masks are used a modest eight times per day that our mask makers have helped to prevent COVID-19 at a collective rate of 268,800 times a month because of the ability to sanitize and replace the filters within our masks."
These 3D printed masks are made of a plastic filament that can be dipped in hot water and molded to fit the wearer's face. Once cooled, the masks remain in this shape, allowing disposable filters to attach to the inside. However, even if no filters are available, the masks can still be sanitized and reshaped after each use.
"I would also like to say that our Aberdeen store donated plexiglass to be used in sneeze guards. The Aberdeen store has been working with Meridian Kiosks to manufacture sneeze guards that have gone out to many local businesses in need," stated Ransdell. When you see a sneeze guard in the local area, it could very well have originated from Burney Hardware and Meridian Kiosks.
In the near future, Ransdell is looking to add face shields and other protective medical commodities to the line of production. "We'll do whatever we can, however that may be," said Ransdell. "If an agency, department, or office needs to place an order for free masks, all they have to do is get in contact with me."
At this time, Burney Hardware is grateful to accept any donations for the cause. "It is a true community effort; neighbors helping neighbors. We are super honored to have been given an opportunity where we can call people to operate as a team to accomplish a common goal," Ransdell said.
To donate or learn more about 3D printed masks, find Burney True Value Hardware of Seven Lakes on Facebook or give the store a call at 910-944-1516.