A little about the author: I grew up working with my parents in their catering business.  I spent all my younger years working in restaurants.
Though I never went to culinary school, I have a great love for food and the restaurant industry.
Every month, we will be telling everyone about the great places to eat in Seven Lakes and the surrounding area. So, let's jump right into it.
Being from New York, there is a great passion for – you guessed it – pizza.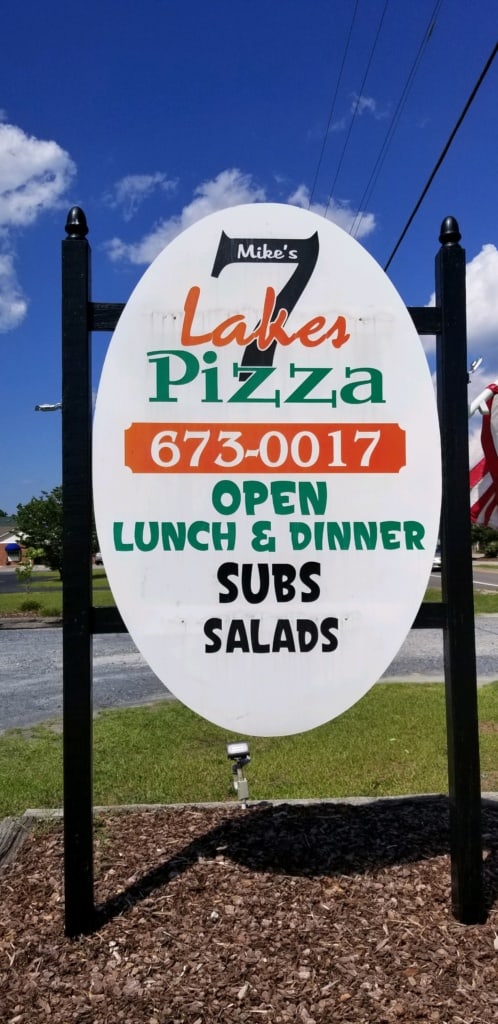 Seven Lakes Pizza is family owned. Mike, his daughter and son, as well as other young ladies from Seven Lakes work there.
He has many different pizza (pies, what we call them in New York). One of my favorites is the chicken-parm pie.
He doesn't have it on the menu anymore, but if you're lucky, he will make it for you.
Going into Seven Lakes Pizza is always fun. Mike has no problem busting your chops in a good way.
Let's talk subs – or as I like to call them – Heroes (another New York term).
By far, the meatball sub is the best: four big meatballs, lots of cheese, and sauce. Did I forget to mention that his bread is made in-house fresh every day?
He also does pasta dishes. All his gravy (sauce) is home made and is made fresh every day.
If you just want a salad, well, you're in luck! He has many different salads to choose from. My favorite is the anti-pasta salad. Make sure you're hungry or have someone to share it with – you get a lot. It comes with ham, salami, pepperoni, cheese and lots of lettuce and other goodies.
So, if you're looking for a great local hometown pizza and great place to eat, call Seven Lakes Pizza and take home a great pie, hero, or salad.
Mike and his crew are the best.
Seven Lakes Pizza Kitchen is located at 1070 7 Lakes Drive; across from Food Lion. They are open Monday – Friday from 11am-2pm and 4pm-8pm, Saturdays 4pm-8pm. Give them a call at (910) 673-0017.