BY MARY MOORE
SLI REPORTER
Some might say Bill and Judy McNeill made a foolish choice when they dropped everything to open a screenprinting business with absolutely no experience in the field.
"The Lord," says Judy, "looks after fools."
Thirty years later, JuBilee Screen Print is a bustling hub of machinery and colorful ink.
The Seven Lakes company maintains a lengthy list of order forms and a loyal customer base, ranging from sports team managers to corporate groups to individuals who design their own Christmas ornaments.
Including Judy and her daughter Kim, there are currently five employees. Everyone has their respective responsibilities and know-how, which allows JuBilee to offer a range of printing processes.
When Bill and Judy started their venture in 1991, it was a very different story. They'd purchased all the necessary equipment, Bill had quit his steady job, and Judy spent a week shadowing a fellow screenprinter in her home state of Pennsylvania. Her father warned the couple they'd need to hire a graphic designer, not least because Judy had flunked out of art class in high school. But that didn't stop her from learning, and slowly the two became designers in their own right.
At first, JuBilee Screen Print didn't get much business. The McNeill's accountant told them that a local business often takes around three to four years to catch on. It proved true.
What followed was a series of meager Christmases and months when the bills were hard to pay. Unexpected challenges frequently arose, and much of the work that is now done by a computer had to be completed, painstakingly, by hand.
As time passed, their repertoire of services expanded. When a persistent need would arise, such as the desire for multi-color prints on hats, they'd buy a new machine and master it.
"There's always room to grow," said Judy.
Their newest method is called sublimation, and opens the door to printing on a wide variety of surfaces, such as mugs, doormats and ornaments. It's been popular.
"I've seen a grown man cry putting his grandbabies on Christmas ornaments," said Judy and Bill's daughter, Kim Tew, now a full-time employee at JuBilee. "People really enjoy it."
At one point, the McNeills' son Matt moved from Wilmington to join the family business. He was responsible for the introduction of the embroidery machine, a task which has now fallen to another employee. Sometime later, Matt's younger sister Kim joined the gang. Nowadays, Kim wears many hats as a designer, administrator, customer service representative and more.
There was a point in time where JuBilee was a true family business, run by mother, father, son, and daughter. This arrangement had its challenges, and Judy and Kim agreed that quite a few doors were slammed at the time. Eventually, both Bill and Matt moved on to other work, leaving the mother and daughter duo on their own.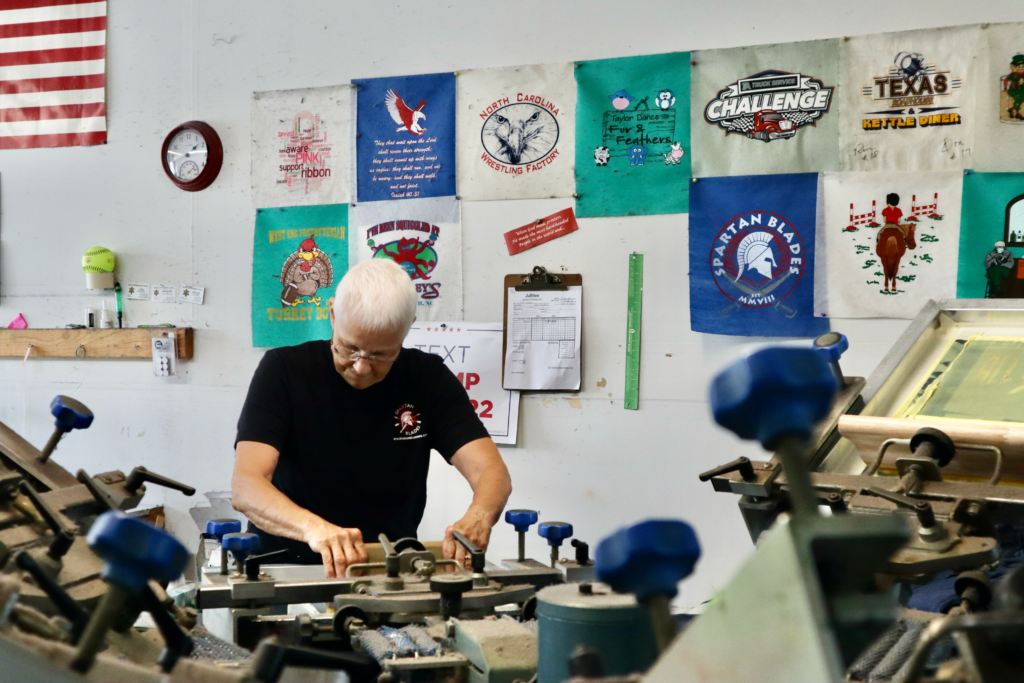 "It's mellowed out now that we've got rid of the men," joked Kim.
Both women are clearly passionate about the screen printing process.
"The part I enjoy most is people coming in and seeing the shirt they ordered," said Judy. "It's a feel-good thing."
"Especially when they run to the bathroom to change into it," added Kim.
Like most other businesses, JuBilee experienced hardships with the rise of the COVID-19 pandemic. Not only did demand for their services disappear almost overnight, the JuBilee team was left with excess materials and unpaid fees for half finished projects. Suddenly sports teams were calling and saying they didn't need the season's jerseys anymore.
"One day the phone was ringing and ringing, and then suddenly calls just stopped," said Kim. "It was really scary."
The McNeills struggled in the months that followed. Judy worked to keep the shop open several days a week and paid her employees what she could. They made thousands of masks, and had a small flow of requests from corporate clients.
But as soon as COVID-19 restrictions loosened, orders immediately picked back up. "A lot more people are trying to shop local," said Kim, which she believes is an effect of the pandemic.
Three decades strong, and Jubilee Screen Print shows no signs of slowing down. Judy and Kim are hooked on their trade, and plan to run the place together for the foreseeable future.
JuBilee Screen Printing is located at Suite F at 314 Grant Street in West End. The shop is open Monday through Friday from 8:00AM – 5:00PM.
Contact Mary Moore at (910) 693-2462 or mmoore@thepilot.com.