By Maggie Beamguard
Insider Editor
The Seven Lakes campus of Grace Church prepares to open the newly installed glass doors of its expanded Worship Center on Sept. 10 for a grand opening.
Located at Seven Lakes Plaza just off N.C. 211 at West Plaza Drive, the church and its congregation will celebrate the move into the corner space adjacent to the current worship center, which had outgrown its space. The expanded space will double the worship space seating capacity from 150 to 299 seats. It also features a grand foyer, coffee bar and two classrooms.
"We were kind of forced to do this," said Pastor Jimmy Coxe.
The church has seen momentum in growth with people who are hungry for community and want to invite their friends and family.
"But how can you do that if you don't have enough space?" he asked. "We're making a way for people to come and be."
Where people previously entered the worship space right off the street, now they will enter a wide, welcoming lobby.
"It was a little awkward if you were an introvert to walk into that space because you had to find your way around people," said Coxe. "Now we've got some room."
The new space was designed by Pat Morgan, who also designed the Southern Pines campus of Grace Church. The Seven Lakes campus maintains a cohesive look with its parent church, sharing similar colors and style.
The space was formerly occupied by Peking Wok, whose furnishings were donated to Teen Challenge. Once demolition began, it was just a big, black hole. Now it is a state-of-the-art worship facility featuring a digital wall for worship graphics, video feeds and maybe even, Coxe suggests, a Super Bowl "watch party" for the community.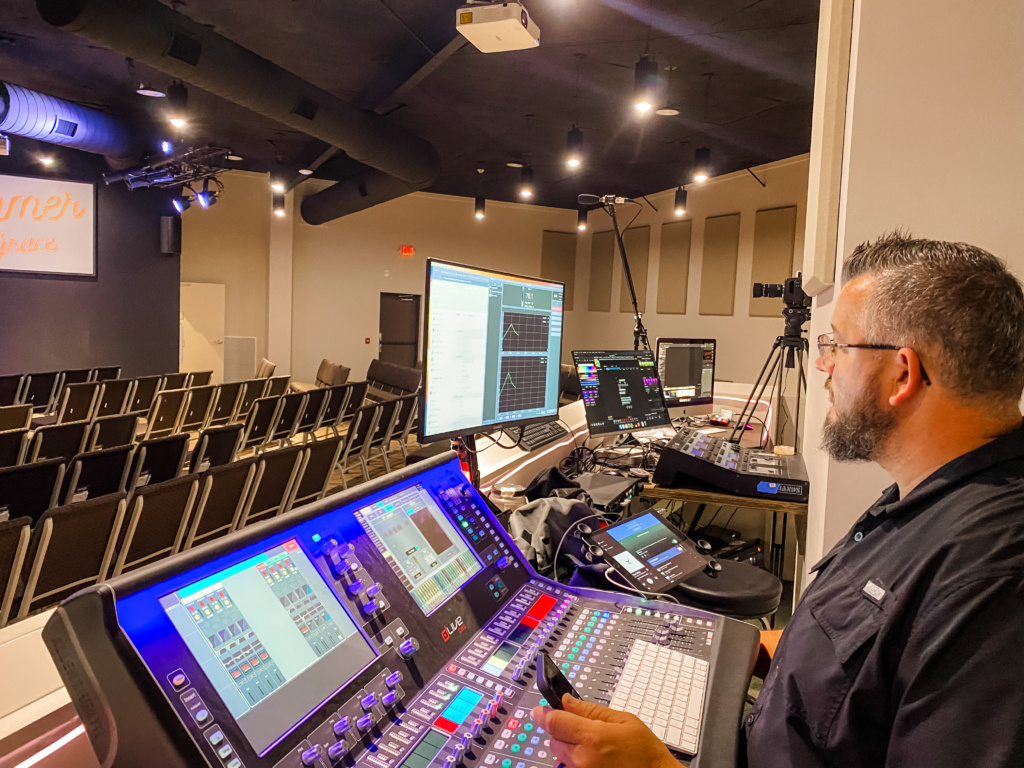 The new technology excites Worship Leader Steve Booker. A full production suite enables for sound and overall production, house and stage light control, video creation and broadcasting. They also have the ability to control the speakers and TVs in the lobby.
"We've talked about people that come in with sensory issues or they're coming with just a terrible headache or they just need space, they can go out in the lobby and still enjoy the service," said Booker.
The flexibility and size of the space are welcome changes. "We're gaining almost three times more space," said Booker. "So I get to have a full team that can spread out and be creative. I think it sets the atmosphere for people to be able to come in and get the help they need or to just communicate with the Lord."
Attention to these considerations results in a space infused with a sense of ease and welcome. The space will also soon be infused with the aroma of coffee.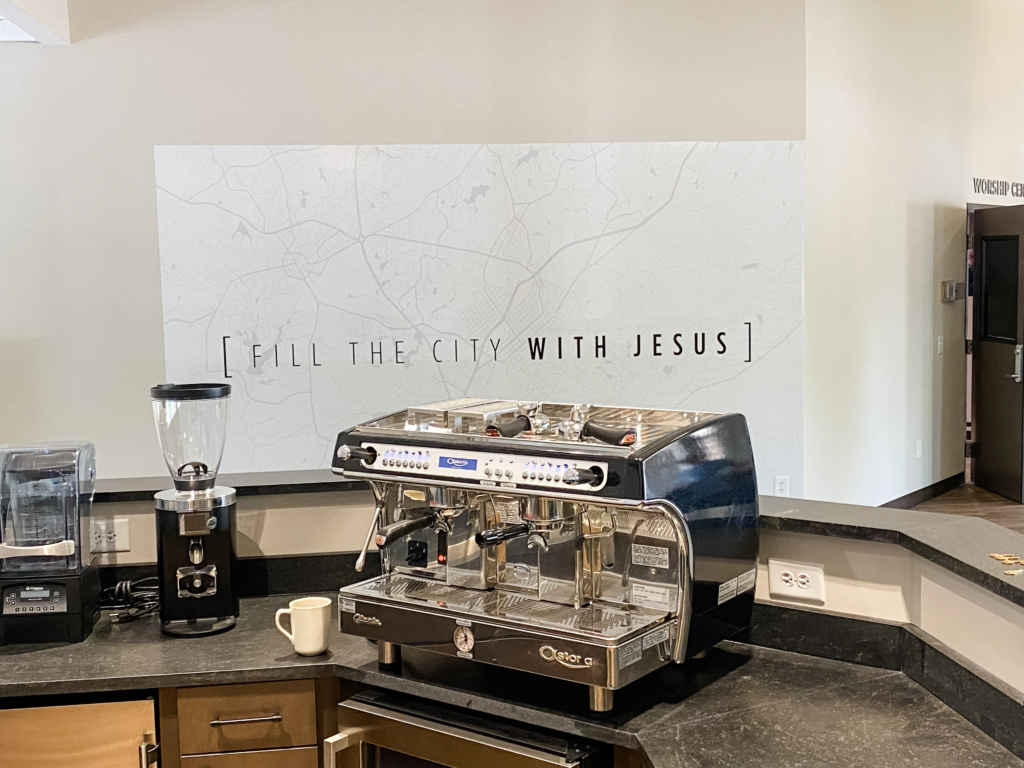 A cafe area outfitted with tables, internet access and a shiny espresso machine provides a taste of hospitality. Coxe hopes that the cafe will eventually be open during the week for the public. "My heart has always been that preschool moms could come in and have a cup of coffee and then go out on the playground with their kids."
Building community through spaces is a part of the church's vision. "The word from Pastor Ryan lately has been 'gathering.' And so we just want to have a place where people can gather." said Coxe. "Everybody's looking for true friendship and fellowship and I think you can find that here." Ryan Peterson is the lead pastor of Grace Church.
Completing the space are infant and toddler classrooms that can also function as meeting rooms, a playground and restrooms.
The whole project has been a labor of love, said Coxe. In addition to the large-scale work completed by Bolton Builders construction, congregation members have pitched in with the smaller projects, such as the construction and assembly of furnishings.
"It's beautiful how God has put it all together, taking people from California and Wisconsin and all over to build one body," Coxe said about the process. "There's a real heart here and a lot of generosity from the people here to make this happen."
That generosity of spirit will be engaged the day before the Grand Opening at a bed-build for Sleep in Heavenly Peace, an organization which provides bunk beds for families in need.
The Grand Opening will be celebrated on Sept. 10 with worship services at 9:30 a.m. and 11:15 a.m.. The community is invited.
"Everybody's welcome," said Coxe, "whatever church background they had or didn't have."
Dress is casual, and services are contemporary.
Contact Maggie Beamguard at maggie@thepilot.com.