Insider Editor
A short while ago, in a location not-too-far away, a disturbance in the Force was recorded. Grogu had vanished. In the absence of Lake Auman's tiny guardian, Jim Garrison leads a determined investigation into the so-called baby Yoda's whereabouts.
Garrison is desperate to find baby Yoda and to restore peace and justice to the Lake Auman Dam — and put at ease community members who have taken to social media to lament the whimsical statue's disappearance.
The small statue of the popular figure from Disney's hit Star Wars series "The Mandalorian," first appeared last November. It was placed by the youngest daughter of Richard and Dorothy Zapczynski, under a bench dedicated to the couple following Richard's death on March 13, 2022. It is one of four benches along the dam donated by different families of Seven Lakes.
The bench is as much a celebration of the Zapczynskis' 62-year marriage as it is of Richard's life. A plaque on the bench reads "Richard and Dorothy, soulmates" with the year of their marriage — 1959 — and an infinity symbol symbolizing both the eternal nature of their love and the eight members of their family, two parents and six children.
Dorothy enjoys when her children can assist her in walking to the bench. "It reminds me of all the 62 years that I had with Richard and our family," she says. "He was just my soul mate, my friend, the best friend I ever had."
The addition of the small, inconspicuous statue of Grogu was accompanied by rocks painted by family members. One read "Dad, always in our hearts. Never forgotten. Love you."
Richard had a fascination with aliens and often recounted a vivid experience he said he had years ago with what he was certain was a UFO. He claimed with unwavering certainty to have seen a spaceship in the wee hours of the morning hovering over the Nabisco plant on Roosevelt Boulevard in Philadelphia.
Grogu, a small but very powerful — if somewhat still infantile — force of good in the universe, made for a fitting tribute to Richard's interest in the extraterrestrial.
Those who frequent the dam for walks enjoyed Grogu's presence. Some joined in the fun by bringing tributes of golf balls, an American flag, a special sweater for winter and a rock painted with a butterfly. The additions were appreciated and enjoyed by Richard's family members.
Based on sightings by dam walkers, Grogu, along with some of his "belongings," appears to have vanished on the evening of Friday, Aug. 4. "People definitely noticed it was gone," said Garrison.
Garrison, Dorothy and Richard's son-in-law, has made it his Mandalorian-like mission to locate the Grogu and return him home. He has sent out appeals to all ends of the Seven Lakes universe and beyond via the internet.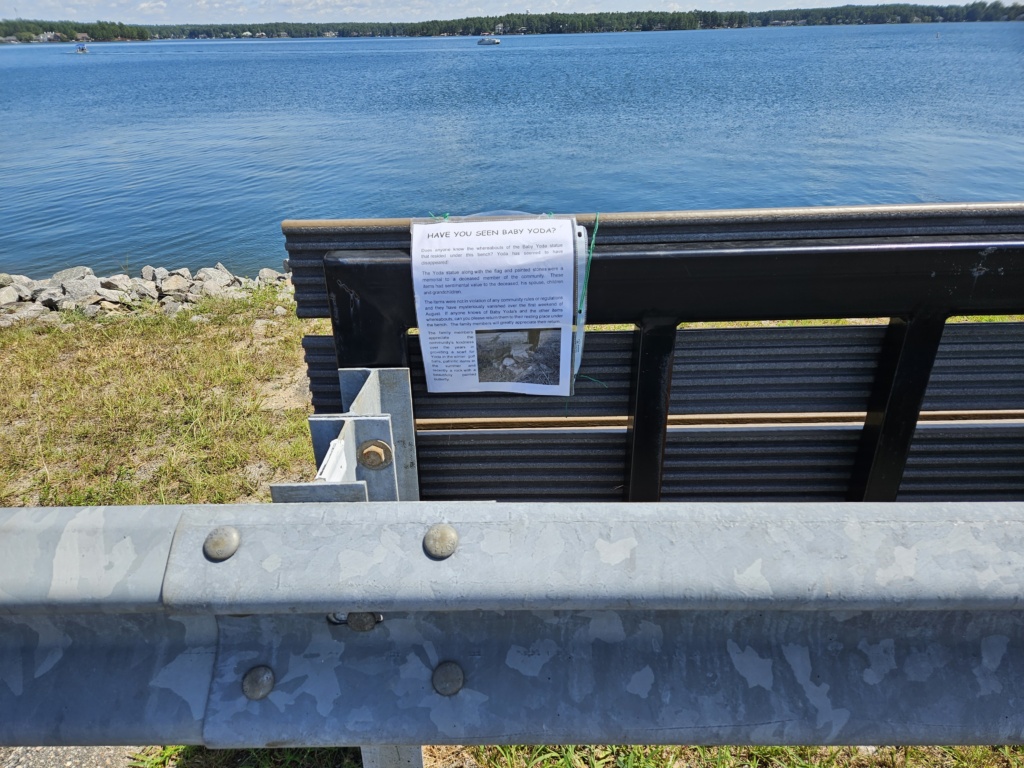 The pursuit of Grogu has been "almost like trying to find a lost dog," Garrison says. He has put up posters in the mailhouse and the bench itself and spread the word on social media and through the weekly neighborhood email.
"These items had sentimental value to the deceased, his spouse, children and grandchildren," Garrison's plea reads. "The items were not in violation of any community rules or regulations and they have mysteriously vanished over the first weekend of August."
The family hopes baby Yoda will be returned. Speculation of his whereabouts has been wide-ranging and imaginative. Garrison's first thought was to wonder if Grogu had "gone for a swim," tempted to cool off in the blue, lapping lake. He also wondered if Grogu had been removed by a lawn crew or by the HOA, but a quick phone call to the Seven Lakes West office dispelled that possibility.
Others wonder if more sinister motives were behind the disappearance. Perhaps someone stole him or threw him into the lake? Maybe mischievous teenagers pulled a prank and abducted him? Dorothy likes to think that someone who enjoyed him has given him a new home and is taking care of him.
If the original Grogu does not materialize, Dorothy plans to replace him with a smaller, painted statue from her home.
While there are perfectly logical explanations for the missing statue, there is one other possibility, at least for the non-skeptical among us — one that places him in a galaxy far, far away, on a starship headed to an outlying star system.
Wherever he is, the Force surely is with him.
Contact Maggie Beamguard at maggie@thepilot.com.