By Maggie Beamguard
Insider Editor
It has been a season of transition for the Seven Lakes Equestrian Center, the iconic amenity owned by the Seven Lakes Landowners Association.
SLLA President Heather Guild said the changes were prompted when she initiated an informal review of stables operations in May.
As an amenity, responsibility for oversight of the stables had previously fallen to the association's recreation director. "As a horse person, when that recreation person who had it before didn't re-up, I did take that as an opportunity to go in and look at things," she said.
With costs rising, Guild thought it a good time to examine expenses and operations, especially with more people taking part in the center. Guild credits the increasing popularity of the stables over the past few years with the shift in demographics in Seven Lakes from a retirement community to having more of a balance with children and young families who might be more enthusiastic about getting on a horse.
For the past couple of years, the barn has run over 5,000 rides, or about 500 rides per horse each year. Guild says the stables reach more than 600 unique residents.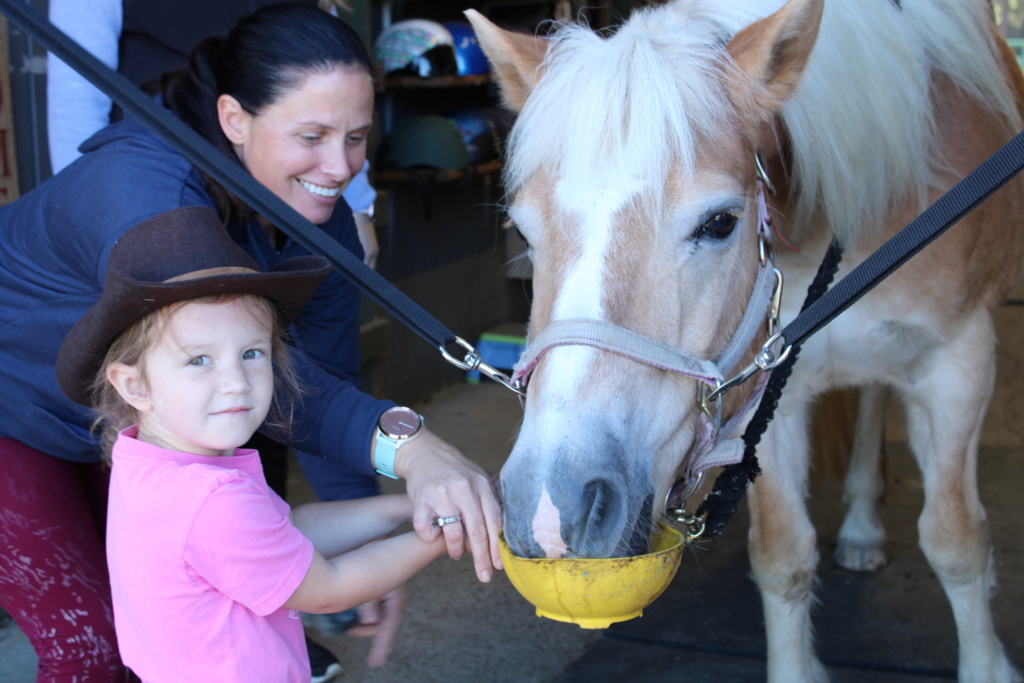 "It's probably one of our most highly used amenities across a broader cross section of the community, which is a good thing," she said, "But it also means a lot of wear and tear on the horses."
Guild, who was involved in the recent stables renovation and serves as the association's facilities director, found herself with extra time last spring to study the budget and how to be more efficient with purchasing and pasture management, as well as any safety considerations.
"It wasn't anything more than that," Guild said. "I knew enough to be dangerous. I had an uneasy feeling, but again initially, I had no idea we were gonna have these other things come up."
More than Expected
What started as an informal review snowballed into something larger. "I'll be totally honest, it ended up being a lot more complicated than I ever dreamed," she said. "I think it's like with a lot of things, once you start to peel back the onion then you find things. It's like renovating a lovely old house. You take your first wall down, and you go 'Oh no.'"
It was immediately clear that important safety protocols were needed to improve both rider and horse safety.
"That became the initial focus of what we wanted to do there," Guild said. "Within a week or two of starting that process it came to our attention with more of a microscope at the stables that nine out of ten horses were lame."
With cascading problems that included an unhealthy herd, the stables shut down, initially for a week and then for two months to allow the horses to heal. The popular summer camps did continue with a couple of horses deemed healthy enough by the vet to be ridden with a few restrictions following just a few weeks of rehabilitation.
"Horses are just like humans," Guild said. "When you have a back or a knee or a shoulder injury, rehabilitation takes time."
A Unique Ownership
But that wasn't all. It came to light that the stable was only insured with an amenities bond. That meant that, while they could continue to provide supervised rides to residents, children of residents and grandchildren of residents, the center was not covered to offer lessons. To secure that coverage, instructors would require certain certifications.
The stables are a unique amenity. Unlike the neighboring and privately owned McLendon Hills Equestrian Center, the Seven Lakes Equestrian Center is one of only two others in the entire country owned by a homeowners association.
The board of directors is still working on how to work within the insurance guidelines to reinstate lessons and is considering different options. Officials have found insurance for the horse camps which will continue next summer.
With new safety protocols, a herd in recovery and evolving questions about insurance, Guild said it meant a new direction was needed for the program. Problems revealed by the close look at the stables became opportunities.
New Outreach, Team
They recognized that many people in the community might love to engage with the horses in some way but may have held back because rides were not their thing.
With the stables closed, center organizers developed opportunities to interact with the horses that did not involve riding them.They hosted a clinic for people to come out and learn about horse first aid and horse health. They also held a Pages and Ponies event where kids came out to the stables to read to the horses.
"We're looking forward to these types of programs reaching another couple hundred of our residents who otherwise would say, 'Oh the horses are pretty, I love driving by them,' but they've never actually come up to meet them because they didn't feel there was an opportunity for that," said Guild.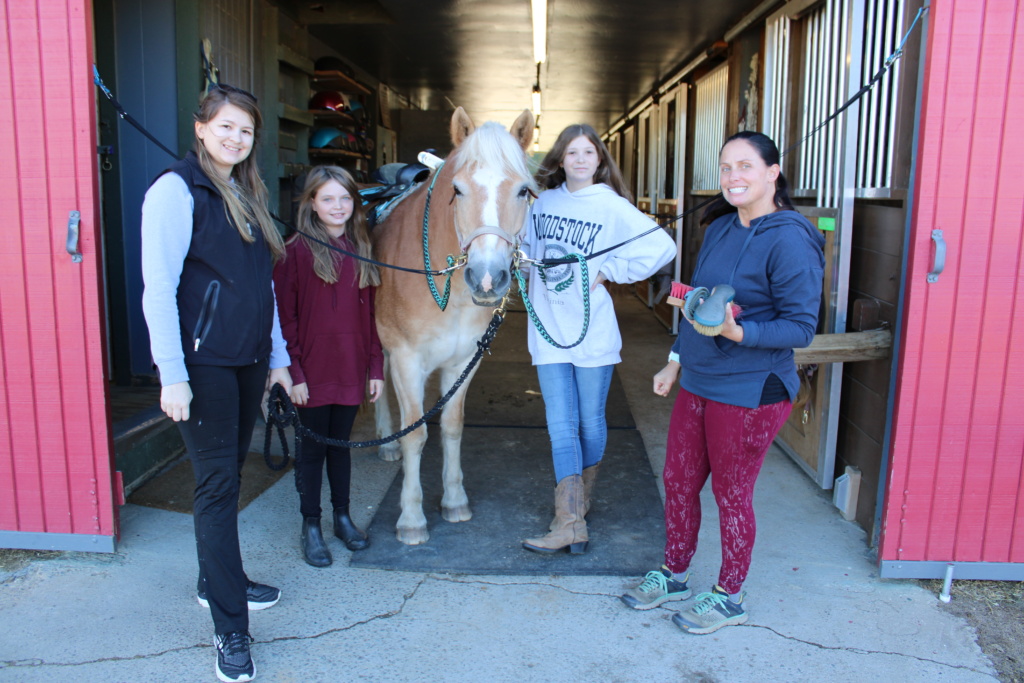 This time of transition also brought new staffing needs. Guild says the board welcomed an additional layer of management experience at the barn.
"We really needed someone there who could oversee the implementation of the safety protocols, and we needed somebody who had the background to help bring the herd back to health. So we hired Jenn Wallace, first as a consultant and then as a part-time stables director."
Wallace brings 30 years of professional equine experience and certification in stable management and equine health. While she lives outside the gates, she is a SLLA landowner.
The role of the stable manager was also slightly redefined, with some tasks redistributed to the stable director such as horse purchases. Brenna Cole was hired as stable manager after Crystal Fravel resigned from the position. Cole brings a degree in equine care and stables management to the team.
Greener Pastures
Things are moving in the right direction. The stables reopened for rides on Sept. 18.
"All of our tack — saddles, bridles, halters, lead ropes, all of our helmets — are up to date and safe for riders and all of the tack now fits the horses properly. Most of the horses are back in full service."
This evaluation process has also resulted in outlining clear roles and responsibilities, with oversight falling back under the association's Recreation Committee. Ann Turner, a former SLLA board member, small animal veterinarian and advanced rider, is serving on the committee. Wallace will be writing a protocol manual for the stables. She is also developing programming that will open the stables up to the entire North/South community, such as the recent Pages and Ponies event, the pumpkin carving contest, trunk or treat at the stables and a special Christmas event with a sleigh ride theme.
They are also pairing up with West End Yoga to offer yoga with the horses and even reiki. With the large military community in Seven Lakes, Wallace also has plans to offer some therapeutic experiences for those with PTSD.
"Nowhere in the country do you have amenity-owned stables like this that allow you access to horses this way," said Wallace. "This whole community has access to these stables. So, to me, it's just a really amazing gift for the community and we just want it to feel inclusive for everybody."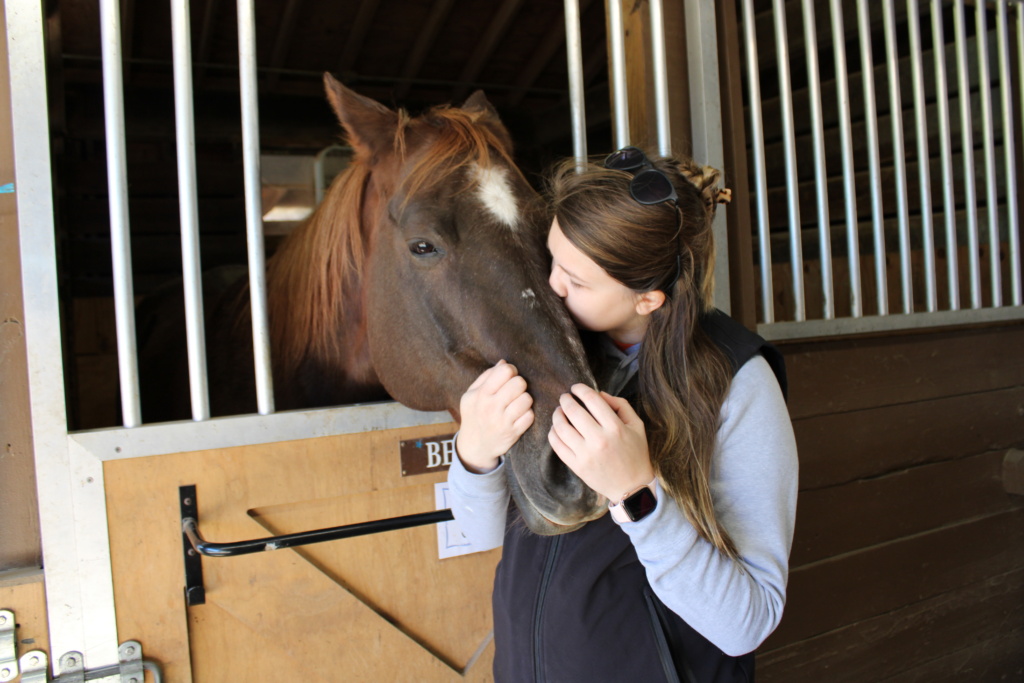 For Guild, the stables are part of what makes Seven Lakes special. Residents have shared with her that even the sight of the pasture and the horses is soothing when returning home from a long day at work and a signal that they are home.
"I've had other people who tell me they have never been on a horse and may never pet a horse, but they love riding by and knowing the horses are there. From a bucolic standpoint, they add to our community."
For the less than $100 a year per homeowner that the stables cost, a lot of people appreciate their value.
Throughout the ups and downs, Guild has been impressed by the number of people, both residents and friends of the stables, who stepped forward to volunteer their services.
"It has been amazing. The stables were in trouble and quite literally, the cavalry showed up. And it's been really wonderful."
Contact Maggie Beamguard at maggie@thepilot.com.