By Maggie Beamguard and Abbi Overfelt
Seven Lakes Insider
The normally tranquil neighborhood of McLendon Hills was recently overrun by mobsters. They were there for a special day — the day of Don Vito Corleone's only daughter's wedding.
On Oct. 13 at the Magnolia Ranch home of Ben Dicks and Jennifer Rickard, there was music and dancing, a wedding photographer, an Italian feast, an extraordinary wedding cake and a raspy-voiced Godfather taking meetings in a back room. "Security" frisked party guests for potential pistols and garrots as they entered the driveway of the ranch. Special guests were given golf-cart rides to the wedding tent.
"Be my friend … Godfather." — Bonasera
Behind the veneer of it all was a group of congenial neighbors gathered for a screening of Francis Ford Coppola's 1972 masterpiece "The Godfather." The movie showing and accompanying theme party made for the grand finale of a series of movie nights hosted by Dicks and Rickard at their 13-acre estate.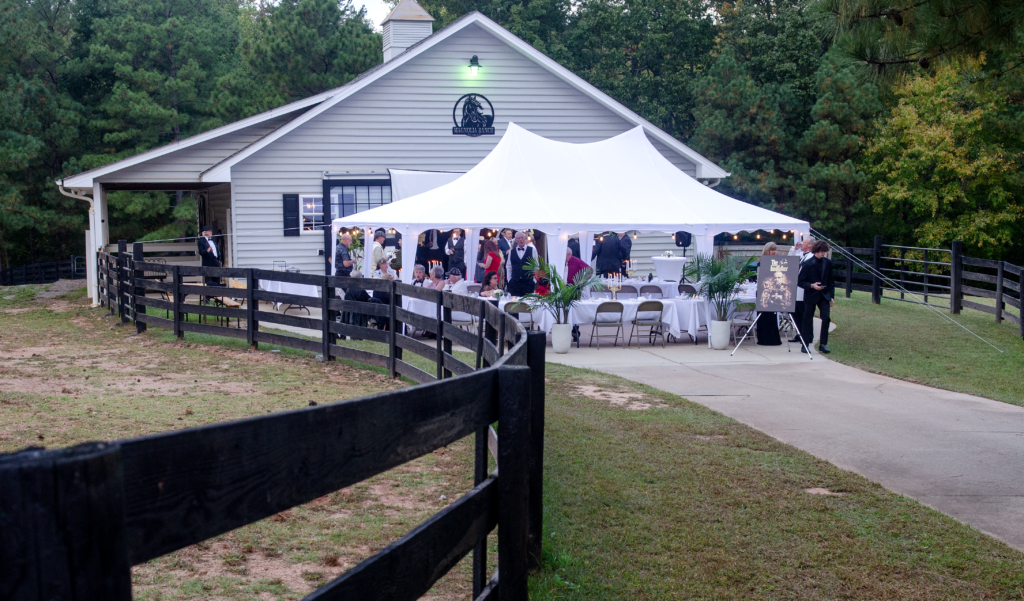 The couple are relative newcomers to McLendon Hills. They moved to the ranch in 2021 after searching for a place to settle when they both started working from home during the COVID-19 pandemic. Dicks' career with Advance Auto Parts brought the couple initially to Chapel Hill via Florida. Rickard manages the QVC and HSN television business for HairUWear, a wig manufacturer.
The couple came up with the idea to host movie nights as a way to get to know their neighbors. It started out with simple plans to put up a screen on their barn, which sits in a little valley. People could drive their golf carts down and bring chairs and watch a movie like an old fashioned drive-in theater.
The first showing: "Top Gun."
"We had a popcorn machine. We had a projector. And we put big boxes of movie candy out and had beer on tap."
From the beginning, the couple decided to make the occasion inclusive. Rickard originally thought they would just have their close friends come until they knew if it would work or not. But Dicks told her, "We'll get it to work, and we're going to invite the entire neighborhood."
Without knowing who would show up, they put the word out on Facebook and waited to see how many of their 200 or so neighbors would come.
"It was a way of making everybody feel included," Rickard said. "And that part was magical because we've met people that we just never would have met otherwise."
"Thank you for the dinner and a very pleasant evening." — Tom Hagen
After they hosted their first movie in May, the movie nights began to take on a life of their own. When the couple showed "Jurassic Park," two people showed up in inflatable dinosaur costumes and it kept going from there.
Participants showed up with costumes and props for showings of "Indiana Jones," "The Heat," "Willy Wonka," "Back to the Future," "Ghostbusters," "Young Frankenstein," "E.T." and "Field of Dreams." At least three "Dolly Partons" attended the showing of "9 to 5."
Dicks and Rickard invite everyone to feel comfortable and are clear that costumes are not expected. But those who do arrive in character undeniably add a touch of whimsy to the gatherings.
"It sounds ridiculous to throw a fake wedding because it's so much work. It raises the bar a little bit. But it allows people to give themselves the permission to have fun," said Rickard.
 "We're all a bunch of adults. Our kids are out of the house, they're adults themselves. So we're back to wondering how we're going to entertain ourselves. And every time we do a different theme people just get into it, it's so much fun. It is like a bunch of kids, just hanging out, playing."
— "It sounds ridiculous to throw a fake wedding because it's so much work. It raises the bar a little bit. But it allows people to give themselves the permission to have fun," said Rickard. —
Video courtesy of Jennifer Rickard
The audience skews toward adults, with older children or youth occasionally attending with parents or grandparents. They usually have around 30 people on any given night with a core group of about 50 who rotate through as schedules allow.
Many of the movie selections were requested by participants. This input is celebrated by Dicks and Rickard, who enjoy the collaboration. In their view, it's just one more way to include everybody.
"In Sicily, women are more dangerous than shotguns." — Calo
The grand finale of the inaugural theater night season was a collaboration with neighbor Ines Mongelli, a native of New Jersey. She approached Dicks and Rickard with the suggestion to show her favorite movie of all time, "The Godfather."
With her deep Sicilian roots, Mongelli can relate. Her grandfather came to America in 1910 through Ellis Island to escape the mafia in Sicily.
She grew up in the 70's and worked in the garment district in New York during a time with a lot of mob activity.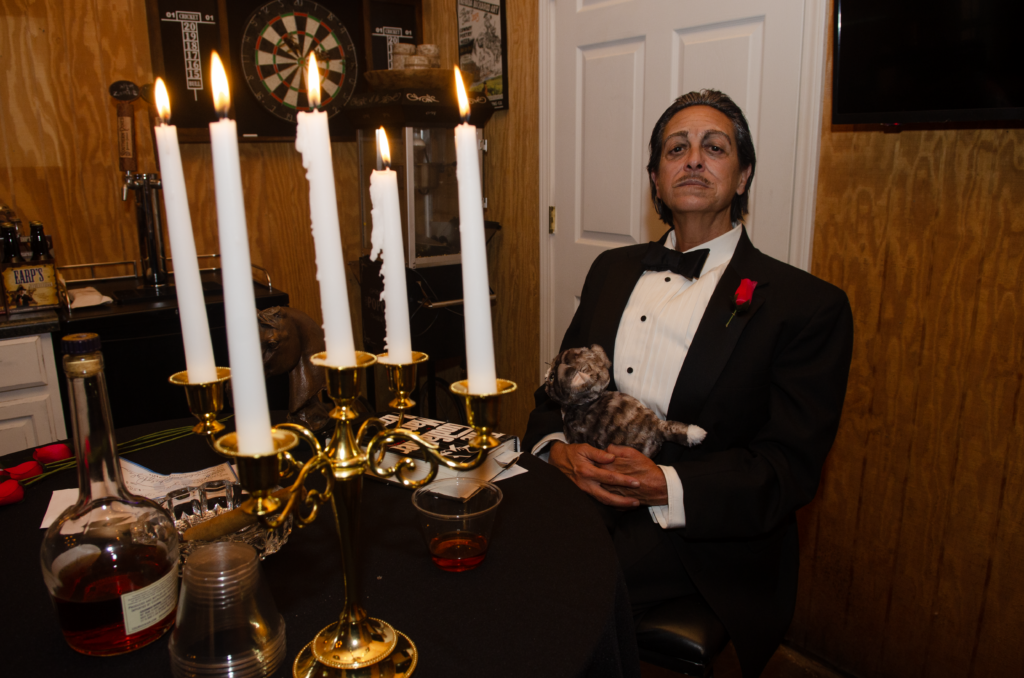 And while Mongelli does not have any first-hand experience with mafia, the themes of family and the aesthetic of the movie strike familiar notes for her. It's a vibe. "Growing up where I grew up and when I grew up, it gives me a warm feeling," she said. "It reminds me of family."
She proposed they host and reenact the iconic opening wedding scene from the movie. Mongelli, a chef and caterer by trade, planned an authentic Italian feast.
"An' wait til you see the beautiful wedding cake I made for your daughter!" – Nazorine
For the collaboration, Mongelli created the menu and recruited friends to recreate the Corleone family, while Rickard provided the decorations.
They sat 52 people for a full dinner that included meatball parmesan sliders, sausage and peppers and rigatoni bolognese. Neighbor Kim Coughlin contributed antipasto salads.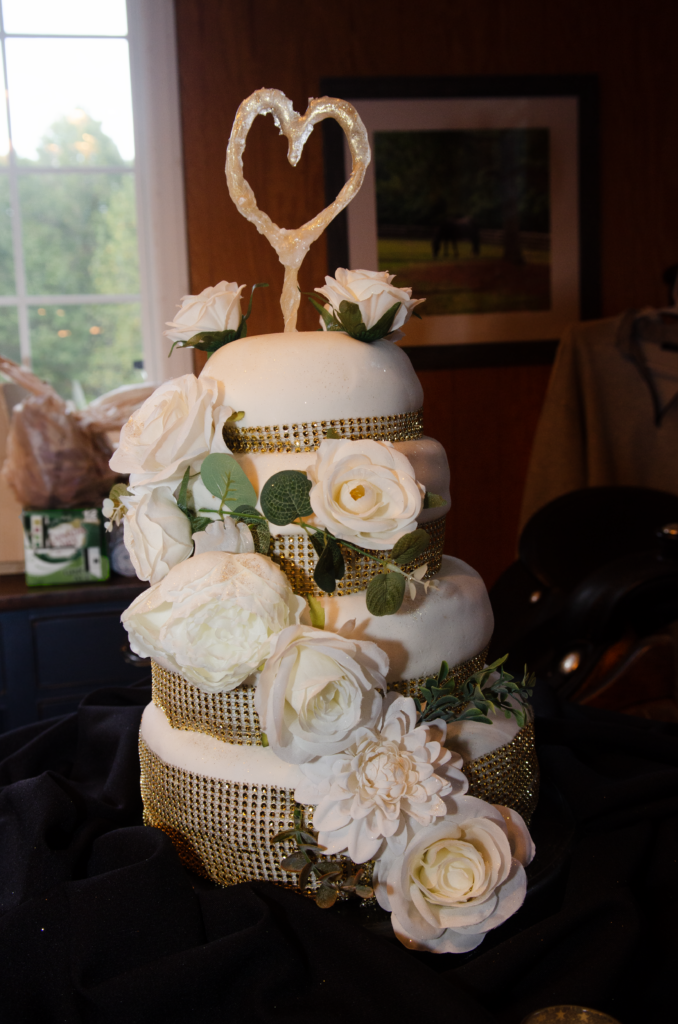 The showstopper was Mongelli's first-ever attempt at a wedding cake. She filled the two bottom layers with cannoli cream, the middle layers with chocolate mousse, and the top layer with strawberries and whipped cream. She covered it in butter cream, fondant, silk flowers and a handmade sugar heart.
"Everybody loved it," she said. She already has a request for a cake order.
Mongelli's talents extend beyond the kitchen. She has acting chops as well.
"We're not taking the picture without Michael." — Vito Corleone
Mongelli cast herself as the "Don," practicing Marlon Brando's breathy accent in the mirror. Her transformation into the mob boss was completed with make up by her friend, Sally Bedding, a prop master for "The Amazing Race."
Every guest was invited to make a request of the "Don" in the Godfather's office, recreated in the barn.
One friend, after kissing the "Don's" ring, grabbed Mongelli's hand and asked just one thing: "please, please tell me the recipe for your Caesar salad dressing." It was the one time Mongelli dropped her character in laughter.
Mongelli was also the casting director. Rickard and Dicks wore their wedding attire from their marriage on the beach five years ago.
She cast her husband, Tommy Mongelli, to security detail. "It's never been to this level. It's usually a movie, people come dressed as the characters, but this one took on a life of its own," he said. "I'm married to the Godfather, so I had to do something.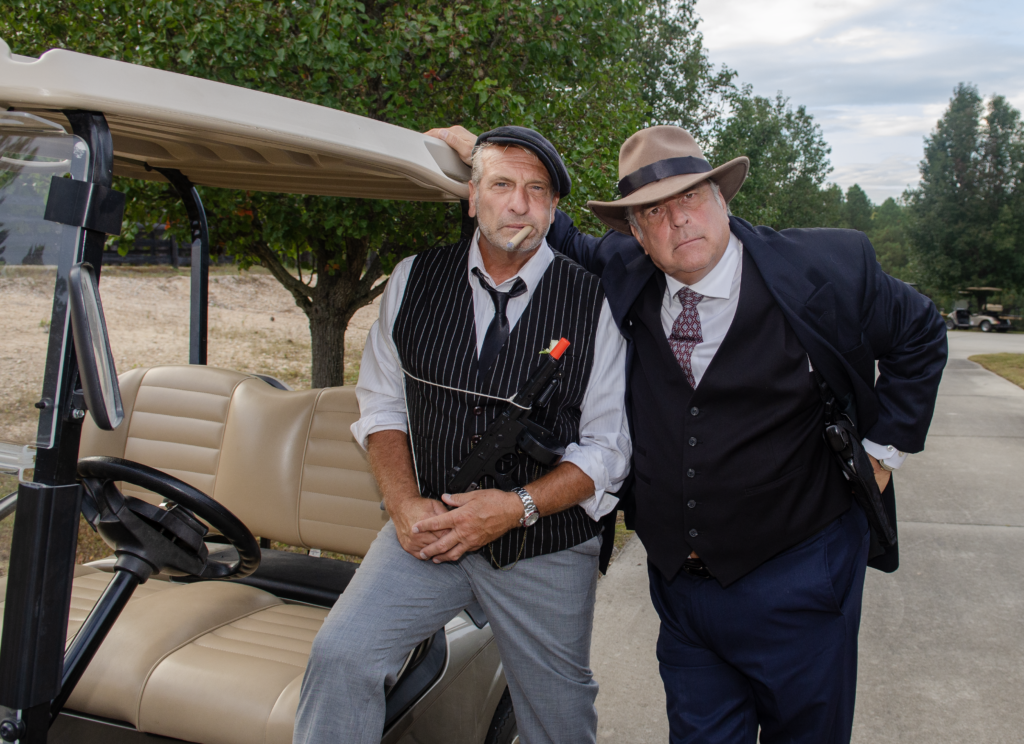 Guest Matt Holway spent two weeks growing a mustache for his role as Fredo. "This is over the top. This is nuts," he said. "I'm wearing a tuxedo for movie night."
All in all, a cast of 10, including a "wedding photographer," set the stage for the memorable evening.
"Everybody in the community helped. People played parts, and we just had such a good time," said Mongelli. "I mean, it was like a real Italian wedding. It was just fabulous."
Guests at the movie night finale were surprised by the elaborate set up, with one guest commenting it was fancier than a wedding she recently attended.
"The richest man is the one with the most powerful friends." – Don Altobello
It took a mob to pull off this celebration. In addition to the cast members, many neighbors volunteered with set up and serving.
"We had three people working in the kitchen to get the food out. We had three people working the cocktail tables and making sure everybody had a drink in hand," said Rickard. "These are all neighbors. Everybody just embraced all of that and came together."
The best part of this venture for Dicks and Rickard has been the creation of community.
"What's inspired me is how many people have jumped in to be a part of it," said Rickard." We've built some strong relationships with the people in this neighborhood."
The appreciation goes both ways.
Maureen Stewart and Debbie Appice donned the infamous dinosaur costumes credited with leveling up the theme nights by encouraging others to come in costume. They do it for the sheer fun of it and because they see how much Rickard appreciates their efforts.
"We get enjoyment out of how much Jen enjoys it," said Stewart.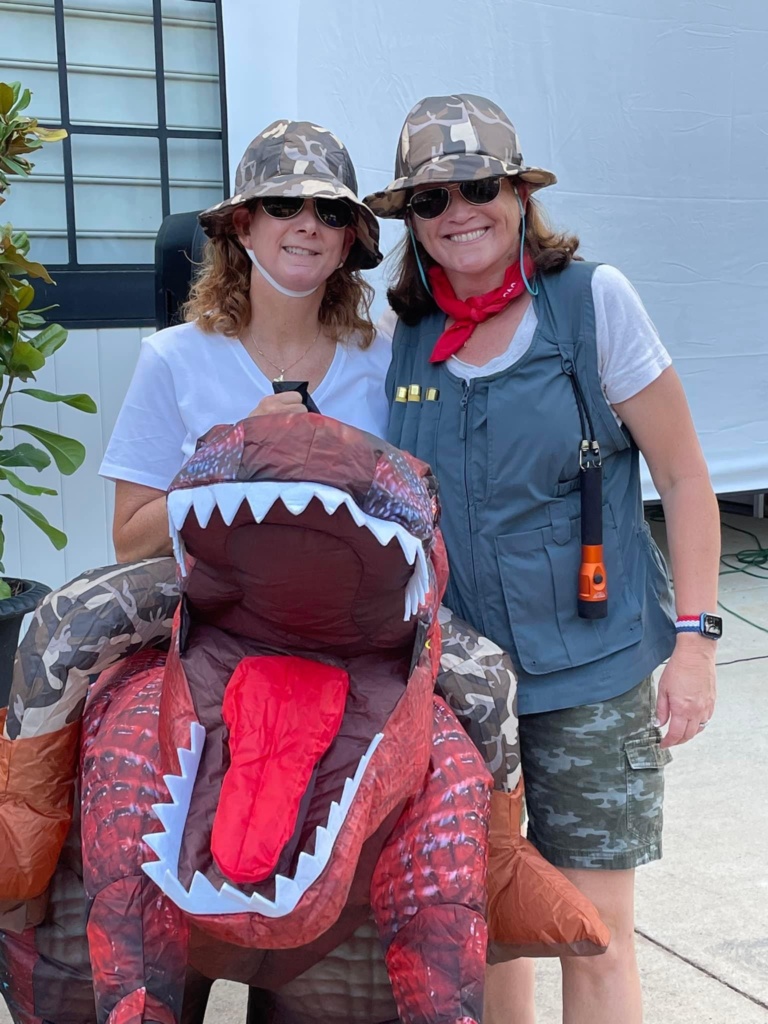 Movie night participants recognize in Dicks and Rickard a generosity of spirit in their efforts to build friendships and form community.
"They are extremely generous and so much fun," said Stewart. "They've really opened their home to everybody. They go out of their way to make these things very special."
"Just When I Thought I Was Out, They Pull Me Back In." – Michael Corleone
All involved with the planning for the grand finale may be recovering, but that doesn't mean the gears have stopped churning.
"I'm not sure how we will beat it next year," said Dicks, who has already purchased a hot dog machine to free him up from the grill. "We'll continue to expand and include things that would make sense for movie nights."
"The Greatest Showman" is one idea they are batting around. "I think that could potentially be a great theme for next year as a finale or something different," said Dicks, who envisions a carnival set up with games.
With that in mind, Rickard has already procured a case of animal crackers in carnival boxes.
When the movie nights start up next May, they will not all be as elaborate as the wedding feast, though it may not be up to Rickard and Dicks. To their delight, their original idea has ignited the creativity in others.
"We're collaborating with the neighbors that are really invested in the event and doing what others want to do," said Rickard. "They get so excited, and it's so much fun to get everybody involved."
Still, she hopes to make it as easy as possible for folks to pull up a camp chair, enjoy a cocktail and snacks and spend an evening with friends old and new.
That's an offer McLendon Hills neighbors surely find hard to refuse.
Contact Maggie Beamguard at maggie@thepilot.com.