BY MAGGIE BEAMGUARD
Insider Editor
When Sandy and Keith Golding were searching for a place to retire, they had one critical element in mind: pristine water.
Their research brought them to Seven Lakes West. They built a lakefront home and moved from the suburbs of Denver, Colorado in June 2021. Here they have made a home where their passions and lifestyle merge.
Sandy, retired from a career in banking, is an experienced open water swimmer. She and Keith, retired from a career in aerospace engineering, both enjoy other water sports. She can be found swimming the shoreline of the lake for at least an hour every day from early April through the end of October.
"My favorite things are being in the water and the people here in our community. This is a great spot."
A woman of faith, she shared that her life verse is Colossians 4:5-6, which invites people to make the most of every opportunity. "I never want to miss an opportunity," she said, "whether it be to swim in the lake that I live on or to make the most of my day, never knowing what tomorrow will bring."
So when the opportunity arose to raise money for cancer research by doing the thing she loves the most, she jumped in with both feet.
She first participated in a Swim Across America event when living in Colorado. The charity swim was founded in 1987 with the goal of raising money for cancer research. Over $100 million has been raised through the years.
Golding first learned of the fundraiser when swimming friends from her Colorado reservoir organized a first event in 2018. She completed two SAA events in Colorado and, after moving to North Carolina, she participated in a SAA event at Lake Wiley, SC.
This year, she took advantage of the fundraiser's option to finish a virtual, individual swim. This enabled her to do what she loves best and to swim in her own backyard to raise money for a good cause.
"I don't have to travel anywhere," she said. "I can promote the awareness of Swim Across America and fundraise right here with people who care about me and who care about the Lineberger Cancer Center at UNC."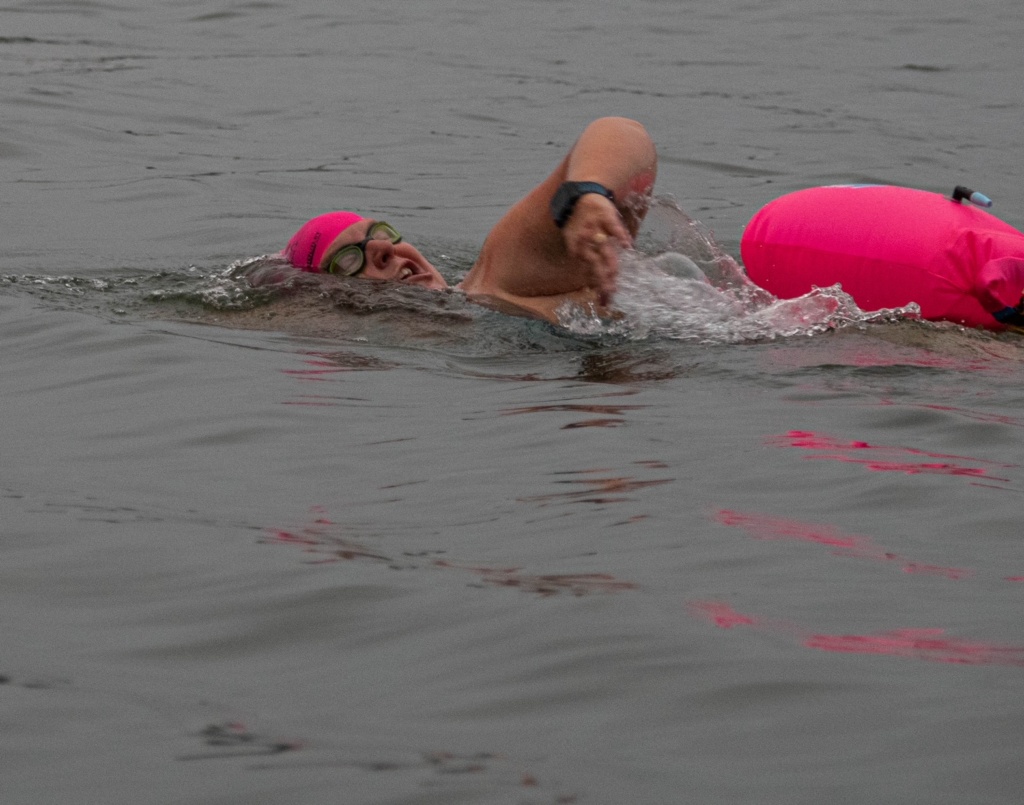 Golding's fundraising efforts for the Lineberger Cancer Center align with the North Carolina SAA event on Sept. 30 held in a University of North Carolina pool.
She appealed to friends on Facebook to support her individual swim held on the same day. "It's super easy to raise funds," she said, since SAA funds go to proven organizations. "It's super easy to care, and it touches a lot of people's lives."
The Lake Auman Sports Club, supported Golding, who serves as its vice president, with a large donation for her SAA swim.
Golding's swim started at the small beach at the Lake Auman Dam. From there she swam clockwise around the perimeter of the lake and finished at Johnson Point, an approximately two-mile distance. She followed lake rules that dictate that swimming is prohibited more than 75 feet from shore.
Golding is an experienced swimmer and often swims alone but always with a safety buoy around her waist and a dry sack to carry a phone or watch that provides connectivity if anything goes amuck, from weather kicking up to a medical emergency.
Supporters cheered Golding on from shore and at the finish line. Along the way, paddle boarder Joy Gaffney and kayaker Chris Myers provided friendship and support. The water temperature on the cloudy morning was 76 degrees. She finished the swim in one hour and 33 minutes.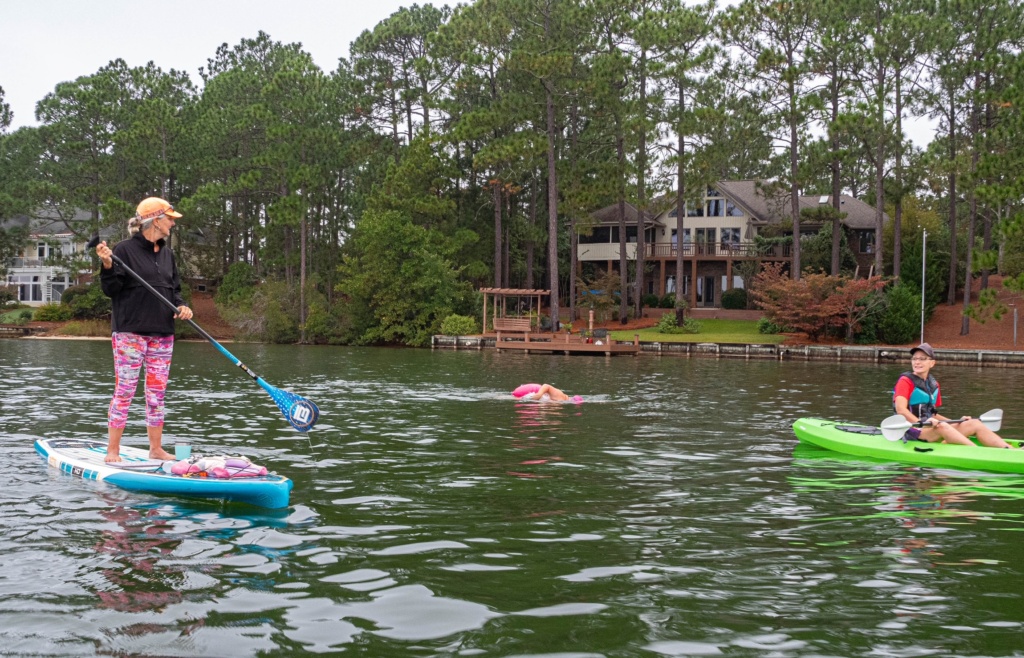 She first started swimming as a child. Her mother could not swim and encouraged her to be a girl who could. So she swam at the neighborhood pool and joined the local swim team.
When they moved near a ski resort in California, there was a lake where she could go out and play in the water and jump off a raft like the raft at Johnson Point.
"All that just breeds confidence and a love for playing in the water."
She switched to track when in high school and college at Sacramento State. But she returned to her aquatic roots at the age of 23 as a competitive United States Masters Swimmer.
Ten years ago, she started swimming in more open-water events. "It's kind of a natural, easy thing," she said. "You kind of go a little slower. And you go longer. And you like the adventure."
It's not for everybody, she acknowledges. Some are uneasy when they can't see the bottom. "It's a unique person that actually goes out there and doesn't have any fear. But it's ethereal to me. It's gorgeous."
It's the physical, mental and spiritual rewards that draw Golding to the water. "I love it. It feels great. As I've aged, I'm usually better off for having swam everyday," she said. "When I'm out there swimming, sometimes I'm counting, sometimes I'm praying, sometimes I'm planning my life or reflecting on things that have happened. So there is a lot of introspection."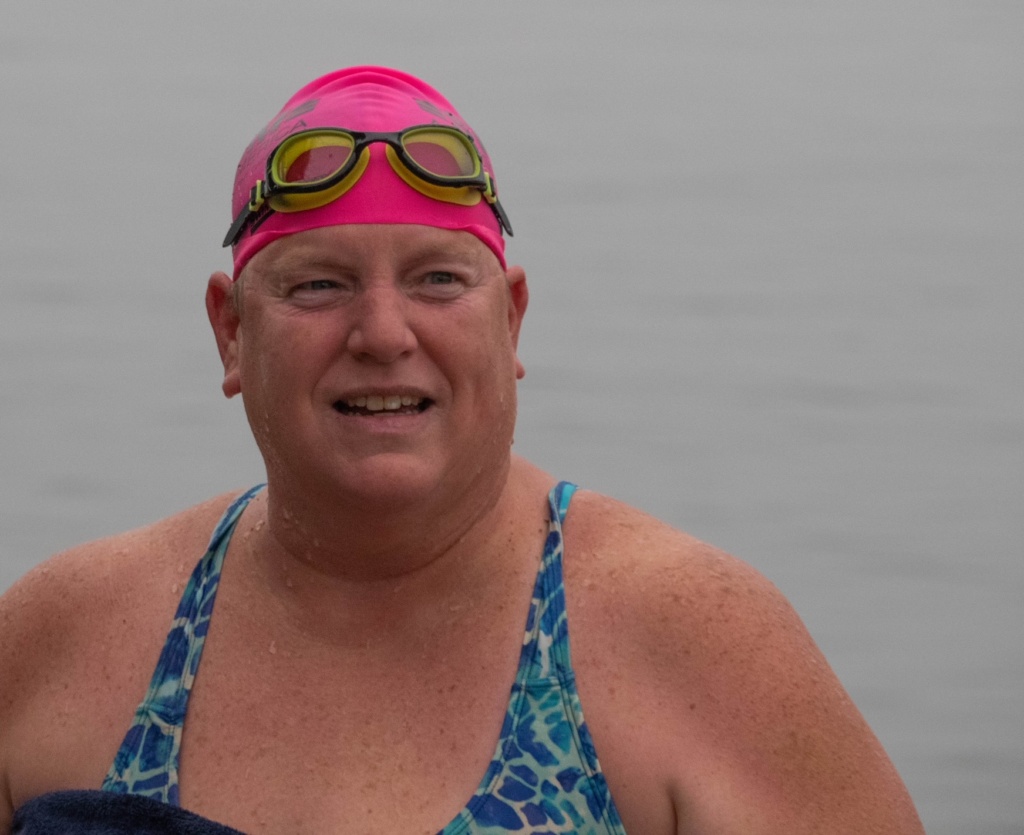 The other benefit she absorbs is the community she has made.
"My favorite part is that when I swim, if I see anyone out on their property, I always stop and engage them and talk to them." She reckons she knows about half the property owners on Lake Auman.
This social connection is something she looks forward to making. "Every day I start my swim, I'm hopeful that somebody will be out there. Because some of these days are very quiet," she said. "That's sometimes how I gauge the success of my swim."
Another gauge of success might be the total funds she raised for life-saving cancer research. Her goal was to raise $1,000 but she far surpassed that, having raised $2,840 at the time of this story.
Golding expressed gratitude for being able to do what she could to help SAA and to be a part of the Seven Lakes West Community. It's a place where she feels like a fish in water.
Contact Maggie Beamguard at maggie@thepilot.com.