The following press release was written and submitted by Don Smith of the Lake Auman Sports Club.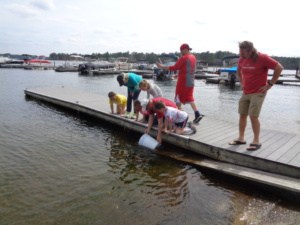 Lake Auman became the new home for 18,500 bream on Wednesday, March 28th, when the Seven Lakes Landowners association used Lake Auman Sports Club volunteers to stock these fish in lake.  The fish that were stocked were two to four inch bluegills and red ear sunfish.  They were purchased from and delivered by Carolina Fish Hatchery in Turkey, NC and certified as non-invasive species.
The fish were placed in the water at fifteen different sites spread around the lake in locations that provided habitat and good cover.  Five Sports Club members, nicknamed the "Bluegill Bucket Brigade", participated in the stocking effort.  They were Glenn Anderson, Jim Beck, Ed Cockman, Mark Haut and Don Smith, who organized and supervised the stocking again this year.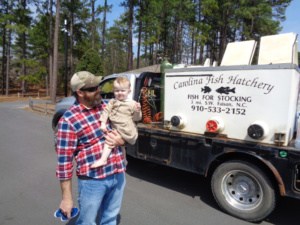 The stocking of these fish by the SLW Landowners Association with help from the Lake Auman Sports Club addresses the primary recommendation for Lake Auman identified in a professional lake study of the lake conducted in 2012.  Other initiatives and programs to ensure and maintain the overall good health of Lake Auman are taking place on an ongoing basis throughout the year by the LA Sports Club, whose mission is to enhance the value of Lake Auman to the residents by providing programs that improve fishing, promote more enjoyment from fishing and by sponsoring other sports programs based on the surveyed interests of the community.