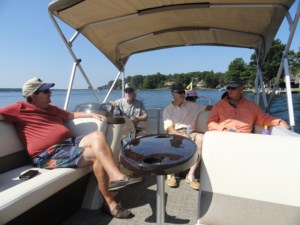 The following was written and submitted by Stan Makson.
It was a spectacular day for a boat ride on the lake and that's exactly what 49 Seven Lakes West residents and guests did on Saturday thanks to the Lake Auman Sports Club's "Ride Around the Lake" event.
"It was a chance for folks – especially those with limited lake access – to experience our wonderful lake," said Sports Club Vice President Stan Makson.  "And the response was great."
The 9-boat flotilla, skippered by Club volunteers, took about an hour to circle Lake Auman and were treated to some amazing sights including a 10- sailboat "regatta" being held on the lake and a circling American bald eagle who dove into the lake and flew off with his catch-of-the-day.