For the past several weeks, longtime North Side resident Rodney Godwin has been serenading folks from a distance during quarantine.
Rodney moved to Seven Lakes North in 2001 with his wife Tonya and their children, Kori and Kain. Although he has been in the community for nearly two decades, his interest in music started long before then.
In 1975, Rodney began singing in his church choir, and in 1983, he took it upon himself to begin playing musical instruments.
"I started playing guitar in 1988 as a senior in high school, and it was an immediate fit," he said. "I was always singing in church choirs and had a really good vocal teacher."
Rodney began playing on Facebook on his page "Rodney Live" in April 2019.  He also played around Seven Lakes at the Winery and the nursing home. Rodney has also played in the Seven Lakes Baptist Church band since 2005.
"When COVID happened, I got the idea one weekend. I posted on Facebook and said, 'If anybody wants to listen to acoustic music, I'll be playing from my deck and taking requests.' I had no idea the response I would get," he said.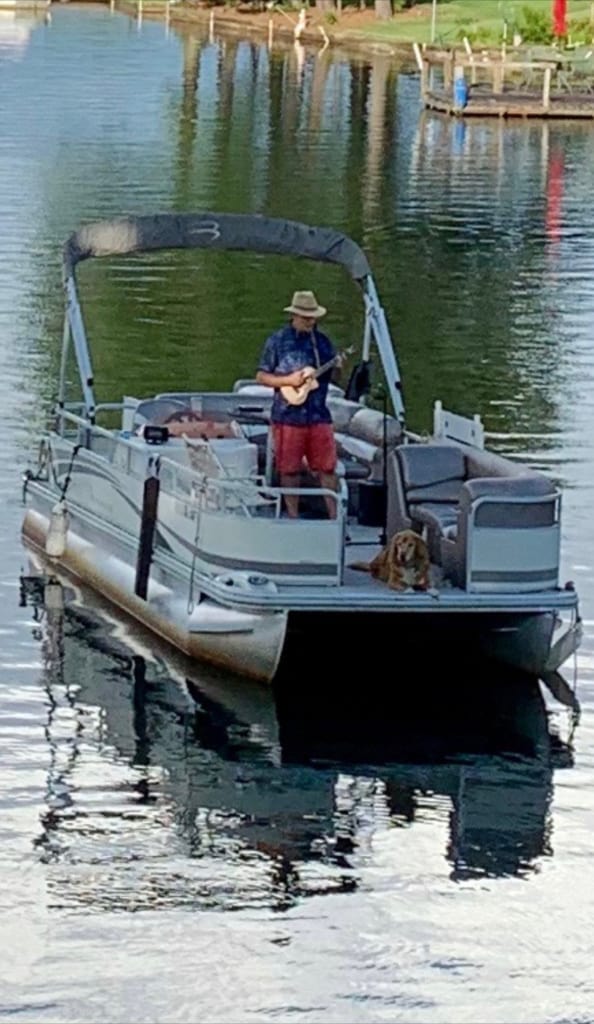 Friends and neighbors rode their boats out in the middle of quarantine to hear Rodney's concert. It was the perfect way to enjoy entertainment while staying safe through social distancing.
With the success of his serenades, Rodney decided to go on tour. He set up an amp on his boat and rode around Lake Sequoia to play for folks.
"My goal is lifting other people and bringing joy and happiness into their lives in a time when people are stressing out about COVID-19," he said. "I can do it and not create a health risk."
Rodney always plays songs that appeal to his audience. His most popular tunes include "Bad Bad Leroy Brown," "Fly Me To The Moon," "Sweet Child of Mine," and uplifting songs such as "Because He Lives," and "It Is Well With My Soul."
"I try to figure out who I'm playing for and what music was popular when they were ages 12-24. If you play that, they're gonna love you," he said.
He takes requests during all of his concerts, and if there is a song he doesn't know, he will learn it and come back to play it later.
One of his most popular songs that he wrote himself is "Stop Hoarding" which was written to the tune of "Don't Worry, Be Happy." The song talks about the coronavirus and how it's affected lives.
A regular who Rodney plays for made a special request of Rodney – that he would come and serenade a 99-year-old local on July 29th for his birthday. Coincidentally, July 29th is also Rodney's 50th birthday.
"That's what I'd rather do than anything on my birthday – other than spending time with family," Rodney said.
He is hoping to get a fleet of boats together to sing "Happy Birthday" to the local 99-year-old World War II Navy Veteran on July 29th. He will be meeting other boats between his home dock and the island on Lake Sequoia.
"I want to see how many people in Seven Lakes will come out on their boats to sing 'Happy Birthday'," he said. "We'll float up to his house and sing."
To participate in the July 29th Birthday Boat Fleet, look for updates from Rodney on the Seven Lakes North & South Facebook page.
To join Rodney Live, CLICK HERE.