On Thursday, July 30th, Fort Bragg volunteers prepared for the military jump that would take place over Lake Auman as part of training.
A total of 53 jumpers loaded up their gear at the West Side park in preparation of the jump. The jumpers would be participating in static line jumps from 1500 feet as well as freefall parachute training from heights of 12,500-13,000 feet.
"To do a freefall jump, you have to go to freefall school and learn to survive in the water. There are canopy hazards," said Staff Sergeant Nick Birkner who had done 2500 freefall jumps.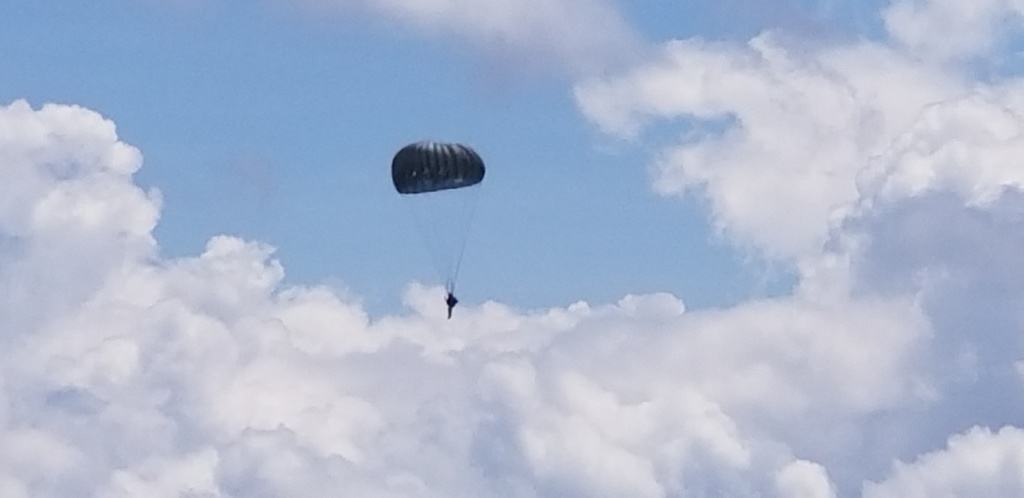 Five boats waited in the water, both monitoring the jump and ensuring that residents kept their personal boats outside of the safety barrier. Three boats were from Fort Bragg while the other two were from the West End Fire Department, which had eight volunteers helping to monitor the event.
"The divers have two purposes: to pick them up, and drop them off," said Battalion Chief Josh Hopkins who had been a diver for seven years.
"The Zodiac boats recover people and hand them off to us," explained Captain Nick Androlowicz of the Fort Bragg Fire Emergency Service. "We're here for safety in the event of an emergency such as a shoot malfunction or if someone's not a strong swimmer."
Food was donated to the jumpers and volunteers by Lewis Eakes of The Pub & Grill at Beacon Ridge.
About 90 meals were put together free of charge by Lewis, his daughter Robyn, and Molly Hussie. They prepared hot dogs "all the way," BBQ sandwiches, baked beans, and slaw. Brownies were donated by Gaymelle Shepherd.
"We appreciate all the troops and their service. We support our military thoroughly," Robyn said.
"We know what it's like to lose a loved one over there," Lewis added.